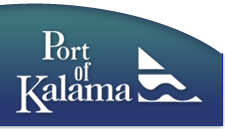 Kalama, Washington (PRWEB) December 14, 2011
The Port of Kalama is celebrating a significant win for the Cowlitz region as it welcomes wine bottle manufacturer, Bennu Glass, to its growing industrial business community. Bennu Glass acquired the assets at the Port location previously owned by Cameron Family Glass Packaging and will be fully operational by mid-year, 2012.
Bennu, which serves the vibrant wine industry in Washington, Oregon, California, and western Canada, anticipates hiring up to 100 salaried and hourly personnel in the beginning of 2012 which is terrific news for ready and skilled local workers. At full capacity, the factory will produce over 100 million wine bottles per year, and will be in the market, as well, to hire numerous local and regional suppliers to serve the factory's demand for raw materials, supplies and services.
"To restart the factory, Bennu will make a significant investment in the existing facility at the Port of Kalama which includes the installation of a new state-of-the-art oxygen-fuel furnace," said Jerry Lemieux, chief executive officer at Bennu Glass. "The Port of Kalama offers exactly what we need to launch a successful manufacturing plant – diverse modes of transportation, a location close to an international airport at PDX, and a ready, skilled workforce."
Bennu joins a growing number of industries and businesses who have found the Port of Kalama an ideal location to grow their businesses. The Port boasts a new Industrial Park and acres of shovel-ready land for manufacturing, technology, storage and many other uses. A 5-acre Marine Park stands out as a popular destination for both locals and tourists. Kalama is already banking on these features and more as it attracts new businesses to the amenity-rich industrial properties. Port officials cite several advantages for businesses like Bennu Glass to settle in Kalama including:
Business friendly environment
Affordable/competitive rates
Accessibility to all modes of transportation
Quality buildings, land on river/rail/Interstate
Collaborative environment
Quality of life, slow-paced, beautiful, quiet, hometown feel
Proximity to international airport at PDX -- just 30 minutes away
"We welcome Bennu Glass to our growing community of manufacturing and industrial businesses here, and the fact that they will be hiring from our local community is a boon to the whole region," said Lanny Cawley, executive director, Port of Kalama.
Tax incentive programs are in place and all begin with the word "no"--no state, corporate or personal income tax, no state personal capital gain tax, and no inventory taxes. In addition, any manufacturers locating or expanding to Cowlitz County are fully exempt from sales tax on construction and manufacturing equipment purchases. Thanks to Kalama's mild climate, construction can start anytime, all year round.
"If you are looking for a business-friendly, innovative and holistic approach to business and economic development, then the Port of Kalama is where you want to be," says Ted Sprague, executive director, Cowlitz County Economic Development Council. "They really understand what businesses are looking for in this economic climate and are ready and willing to become an ally for tenants."
About Port of Kalama – Where rail and water meet:
The Port of Kalama is located in Southwest Washington on the Columbia River and immediately off of Interstate Highway 5. The port exists to induce capital investment in an environmentally responsible manner to create jobs and to enhance public recreational opportunities. Port of Kalama's industrial area includes seven miles of riverfront property adjacent to the 43' federally-maintained deep draft navigation channel of the Columbia River. The Port is served by the Burlington Northern/Santa Fe and Union Pacific railroads. There are over 20 industries located at the Port of Kalama, employing over 900 people. Port of Kalama offers all the superior facilities businesses need to thrive, and an unsurpassed quality of life. The port offers shovel ready sites, a new Industrial Park, state of the art Marine Terminals and transportation accessibility to rail and highway all just a 25 minute drive to the Portland International Airport. Port of Kalama also offers high-bandwidth communications, with dual access fiber-optic service to Seattle and Portland. Properties currently available at the port for businesses wishing to expand and thrive: http://www.showcase.com/lnewman@portofkalama.com Visit http://portofkalama.com.
CONTACT:
Claudia Johnson, Strategic Communications, 503-799-2220/cell
###