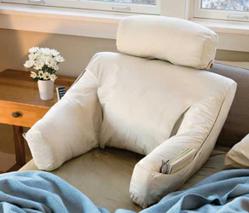 During the holidays when I was in treatment, my family understood what I was going through, and chose great gifts I'd love using, and that we could enjoy together. Lisa Lurie
Pittsburgh, PA (PRWEB) December 15, 2011
Holidays are about sharing time with family and friends, but for a woman recovering from or undergoing breast or other cancer treatments, she may be spending lots of time in bed or on the couch. Survivor and cancer style expert Lisa Lurie, co-founder of online shopping resource CancerBeGlammed.com, which carefully selects products to help women recover from cancer surgery, chemotherapy and radiation in comfort and style, suggests these great last-minute gifts to make that special woman feel good and help family and friends share the season together.

About Cancer Be Glammed
Cancer Be Glammed, LLC was founded by Lisa Lurie, a breast cancer survivor and Ellen Weiss Kander, who underwent chemotherapy for a rare blood disorder. They believe cancer can be survived in comfort and style, and that wearing and using fashionable, comfortable and soothing products during treatment and recovery can have significant, positive impact on a woman's mental and physical outlook. Their web site, CancerBeGlammed.com, is an online shopping resource, connecting women to stylish items from post-operative necessities, to fashion solutions, pampering products, unique gifts and more. Their free Style Guide, complete with Shopping Checklist, is downloadable on the site, and Give A Glam!, their charitable giveback, donates a portion of their profits to cancer support organizations.
###