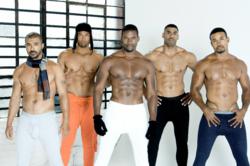 What your man won't do, My Other Man will.
Los Angeles, CA (PRWEB) December 14, 2011
MyOtherMan.com is the fastest growing e-magazine on the net for women featuring sexy African-American male celebrities and models. In addition to all of the wonderful "eye-candy," the e-magazine has enriching features that contribute to the wholeness of women. It officially launched in November 2011, highlighting actor Timon Kyle Durrett of the VH1 hit series, "Single Ladies." Now in December 2011, My Other Man is showcasing a special holiday treat for the females-- not one but five of the most handsome and talented men to hit television. Meet the men of the "Jump Off," the upcoming original Cinemax series by erotica author Zane.
The series centers around five friends who are members of a fraternal brotherhood. The show is beautifully shot on location in Los Angeles and Miami, and it presents refreshingly unconventional images of black men. Take a moment and meet the Men of the Jump Off at http://myotherman.com/CelebrityMoment/.
Yes, we love celebrities but My Other Man also has great articles that women will find entertaining and educational.
Weekly Features
Its My Other Manswers to the rescue as professional licensed therapist Aaron Ashford answers the ladies' plea, "Help! My Man is Smothering Me!" Aaron gives women tender tips for letting their men know that they love them but they just need a little "me" time.
Straight from the Wood: A Black Man's Journal gives a peek this week into the downtime of contributor, Randy "Wood" Ritchwood. Wood also runs into an old friend who helps him to take a look at his long-term relationship options. Check out My Other Manswers and Straight from the Wood: A Black Man's Journal at http://myotherman.com/weeklyfeatures.htm.
Moment For Her
Moment for Her consistently delivers enriching articles for the overall well-being of women. This month's Book Club examines the question asked by author Ralph Richard Banks, "Is Marriage for White People?" This is sure to get a few women talking and Book Club moderator K.T. Elgin says, "I wish I could be a fly on the wall for this one."
Many African-American's suffer from hypertension. Moderate changes in the diet can effectively eliminate this silent killer and keep you Fit for You. J.R. Rogers, health and fitness guru gives one simple tip that could change and save your life.
Love and Finances tells ladies "How to Have a Financially Balanced Relationship." Whether the reader is in a new or long-term relationship, this advice will help with one of the major reasons couples break up, finances.
The Black and Sexy Chef gives a spicy holiday alternative for an intimate Christmas dinner for two, a slow-roasted, Cajun rib-eye roast that is sure to heat him up in more than just one way.
All About the Hair delivers the "Big Finish." The Big Finish is a sexy, voluminous hairdo that will have ladies red-carpet ready. Take a Moment for Her and enjoy all the elevating stories at http://myotherman.com/moment.htm.
The Men
If any of the ladies missed the delicious November 2011 Men, don't worry. They can still catch them and the new December 2011 My Other Man on the Move and the "hottie" that is Young and Tender for the Ladies by visiting the Men at http://myotherman.com/models/.
In addition to all the great pictorials and features, My Other Man also has a ladies-only online community. This is My Other Man's internet answer to "ladies night out." Women can connect and share with their girls and invite new friends. Yes, women love their men but every now and then they just want a little "girl-time."
"What your man won't do, My Other Man will." The ladies' moment is now.
Send inquiries and talent submissions to info(at)myotherman(dot)com
###