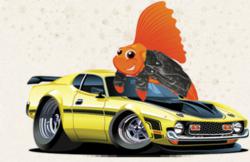 This website is stepping in to fill the gap somewhere between Maxim and The Wall Street Journal.
San Diego, California (PRWEB) December 13, 2011
David Klein, internet entrepreneur, launched his newest endeavor today, Roadfish.com. David Klein, the founder of the website, stated today, "Roadfish.com is a website devoted to the guy." Klein stated that, "This website is stepping in to fill the gap somewhere between Maxim and The Wall Street Journal."
"The plan is for this to be a very real site with useable, practical advice to make more money, get great stuff for less money, and insider tips to hack life", says Klein. He went on to say, "In today's world where your credit report means as much as your strength or intellectual quotient finding the inside path through this current financial confusion is going to be worth knowing."
David Klein, known in the Internet world as dk, has been a speaker at large internet conferences such as PubCon and Affiliate Summit. He is known for his irreverent blog, PurposeInc.com, on the internet marketing world.
"He has already made something of himself and now he is ready to take the world by the horns. We decided to launch with a story about Mikhail Prokhorov possibly becoming Russia's next President. He has made it in life financially. He owns an NBA team and now he is ready to take on one of the most aggressive, volatile, and prosperous countries in the world. That guy is totally roadfish."
Google already lists 188,000 results when you Google "Men's Website". Mikhail Prokhorov was listed today as #10 in Google Trends. Each day, Google Trends lists the search terms that are having the highest increase in activity.
Although we are publishing out of San Diego, Roadfish is very much an American website. Although, I am sure other guys around the world will be interested in it as well.
The Roadfish.com website devoted to successful men launched today with a promotion of Mikhail Prokhorov to become the next President of Russia. David Klein, the founder, promises for it to be a practical website for successful guys who want more.
Legal Disclaimer-Nothing in this press release should be construed as a promise by any party for any financial gain or benefit. In fact, following of any advice on roadfish.com may result in your complete loss of capital.
###