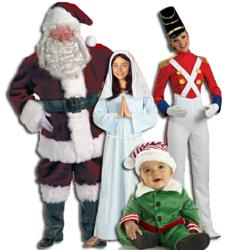 TotallyCostumes.com offers a variety of Christmas Costumes for both the religious and the holiday reveler alike.
Mancos, CO (PRWEB) December 14, 2011
The weather outside is frightful, but shoppers can look delightful in festive holiday attire. TotallyCostumes.com offers a variety of Christmas costumes for both the religious and the holiday reveler alike. Kids and adults can spread the holiday spirit through fun, festive wardrobe and accessories. The selection of Christmas costumes at TotallyCostumes.com ranges from the Nativity scene to Santa Claus.
Whether on the naughty or nice list, women can choose from a sexy Santa dress to a traditional Mrs. Claus costume. A customer favorite at TotallyCostumes.com is the Oh XXXMas Tree Costume which was chosen for the company's holiday photo shoot last year. This sexy Christmas Tree Dress Costume includes a green velvet halter mini dress with removable tinsel, ornaments and a layered skirt trimmed with colored lights and present print along the hem. For women looking to spread sex appeal during the yuletide celebrations, the sexy Christmas costumes should not be overlooked.
TotallyCostumes.com offers a large selection of religious and biblical Christmas costumes for church plays looking to re-create a performance of the first Christmas. Men, women, boys and girls will find holiday costumes to celebrate the birth of Jesus Christ with costumes ranging from the Three Wiseman Kings to Virgin Mary and baby Jesus. Christmas play organizers can complete the nativity scene with farm animal costumes that can also be found in their large selection.
Santa Suits and sexy Santa Costumes remain high in demand each year. With Santa pub crawls, SantaCon and dress-up holiday parties growing in popularity each year, TotallyCostumes.com continues adding to its selection within the Christmas costume category. The Santa Parade Pleaser Costume will be sure to be seen on that holiday parade march or company event. The selection of Santa Suits includes the traditional Santa Claus costume, enchanting Victorian Father Christmas robes and funny Super Fit Santa costume. Customers can stay within a price range with varying quality choices such as economy, deluxe and professional.
Those who are not looking to dress-up in full costume can appreciate the Christmas and holiday costume accessories. Mistletoe and candy canes can dress-up everyday wear with accessories like the Springy Mistletoe Headband or Holly Christmas Glasses. Other holiday headwear at TotallyCostumes.com include traditional Santa hats, springy Christmas tree hat, Santa Stuck in Chimney top hat, red velvet hooded robe, red and white striped stockings and elf shoes to name a few. Updated styles of the Santa Hat include the Curly Q, the mini, Tall and Striped, Jingle Bell and Gangsta versions.
About the company:
TotallyCostumes.com, a leading retailer of Holiday costumes and costume accessories for all occasions, makes sure the party never stops! This e-commerce costume retailer believes in carrying a large selection of high quality costumes in all sizes, styles and themes to fulfill any party, costume or event requirement. They have a dynamic team that works together so their customers receive their order quickly. Their friendly customer care team is dedicated to providing their customers with diligent service while their shipping facilities work efficiently in shipping your order out as quickly as possible.
# # #