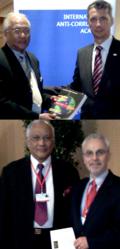 Presentation of Books to Chair, Mr. Martin Kreutner, UN's International Anti-Corruption Academy (IACA), Vienna and to Dr. Nikos Passas, Prof. Northeastern University, School of Criminology & Criminal Justice, USA / Faculty Member of IACA
COLOMBO, Sri Lanka (PRWEB) December 21, 2011
Nihal Sri Ameresekere releases his new book "IMF, World Bank & ADB Agenda on Privatisation Volume II: "Dubious Deals" in Sri Lanka What a Paradox!" (published by AuthorHouse), the explosive 9th book in a series on corruption, fraud, economic crime, governance, rule of law, dealing with real case studies. In this new release, Ameresekere exposes the truism that politicians aspire for office, vociferously, avowing commitment to combat fraud and corruption, exploiting the economic anguish of poverty stricken people, but upon assuming political power, pathetically forget such avowed commitment, and get bogged down in the quagmire of corruption, vehemently castigated and denounced!
Ameresekere alleges politicians are funded by lackeys at elections, thereby getting themselves obligated to provide returns on funding, at the expense of the abject poor. He asserts that IMF, World Bank and ADB privatization agenda only breeds corruption, with them tacitly having aided and abetted therein. In his new book, fraud and corruption at highest echelons in Government, involving international parties, are appallingly revealed, with intriguing diplomatic interventions, and the unbelievable revelation from lofty idealism to sublime apathy of deception, complicit with hypocrisy; enforcing law unequally against opponents for political expediency, whilst those wielding power, brazenly acting otherwise, perpetrating offences of much greater gravity, including shielding lackeys (Special Presidential Commission Inquiry 6/95).
Ameresekere states that amazingly, the highest judiciary, castigating corruption, upheld the dire need for governance and enforcement of rule of law, including against an ex-President – SC (FR) Applications Nos. 503/2005 & 352/2007. Brilliant in-depth research into real human behaviour and wheeler-dealing in the upper echelons of Governments – an ideal book for academics and professionals interested in political science, human behaviour, governance, public finance, commerce, rule of law, forensic accounting and privastisation and for public interest activists.
Contents of "Dubious Deals" in Sri Lanka What a Paradox!
Chapter 1 - POLICY PRONOUNCEMENT
Chapter 2 - FORESIGHT ON DEBACLE
Chapter 3 - BUSINESS & POLITICAL HYPOCRISY
Chapter 4 - INDO-LANKA FREE TRADE AGREEMENT
Chapter 5 - CEMENT PLANT SALE TO THAWAKKAL LTD., PAKISTAN
Chapter 6 - INTERNATIONAL AIRPORT DUTY FREE TO ALPHA AIRPORTS GROUP PLC, UK
Chapter 7 - STEEL CORPORATION TO DOOSAN GROUP, SOUTH KOREA
Chapter 8 - TEXTILES MILL TO KABOOL CO. LTD., SOUTH KOREA
Chapter 9 - SRI LANKA TELECOM TO NIPPON TELEGRAPH & TELEPHONE CORPORATION, JAPAN
Chapter 10 - RAILWAY LOCOMOTIVES FROM GCE ALSTHOM OF FRANCE
Chapter 11 - AIR LANKA TO EMIRATES AIRLINES, UNITED ARAB EMIRATES
Chapter 12 - PART OF PETROLEUM RETAIL MARKET TO INDIAN OIL CORPORATION LTD., INDIA
Chapter 13 - LAND DEAL WITH PACIFIC SHORE PROPERTIES LTD., HONG KONG
Chapter 14 - GOLF COURSE FIASCO – 'WATER'S EDGE' SUPREME COURT JUDGMENT
Chapter 15 - SUPREME COURT JUDGMENT ON PRESIDENTS RETIREMENT BENEFITS
Chapter 16 - SPECIAL PRESIDENTIAL COMMISSION INQUIRY ON PRIVATISATION OF NYLON 6 PLANT
Books published by Ameresekere, to date:
1. "UN Convention Against Corruption – To Combat Fraud & Corruption – a Cancerous Menace, with mere Rhetoric, subverts UN Convention"
2. "Colombo Hilton Hotel Construction - Fraud on Sri Lanka Government - Sri Lanka's First Derivative Action in Law" reported in the Commonwealth (Commercial) Law Reports (1992 CLR @ Page 637 / SC Appeal Nos. 33 & 34 / 1992)
3. "IMF, World Bank & ADB Agenda on Privatisation - Sri Lanka Insurance Privatisation, handled by PricewaterhouseCoopers and Ernst & Young - Annulled as Unlawful & Illegal by Supreme Court" - of Sri Lanka in SC (FR) Application No. 158/2007
4. "Derivative / Hedging Deals by Citibank, USA, Standard Chartered Bank, UK, Deutsche Bank, Germany, with Sri Lanka Government's Petroleum Corporation - Dubious & Illegal ?" - re Supreme Court of Sri Lanka in SC (FR) Applications Nos. 535 & 536 / 2008 and Nos. 404 & 481/2009
5. "IMF, World Bank & ADB Agenda on Privatisation - Colombo Port Bunkering Privatisation - Annulled as Illegal & Fraudulent by Supreme Court" of Sri Lanka in SC (FR) Application No. 209/2007
6. "Transparency & Public Accountability - Fiscal Mismanagement & Lack of Public Accountability - Case Study - Sri Lanka, a Country under the Purview of IMF, World Bank, ADB" – The Supreme Court of Sri Lanka in SC Reference No. 1/2004 & SC (SD) Application No. 3/2008
7. "IMF, World Bank & ADB Agenda on Privatisation - Pillage of the Plantations in Sri Lanka"
8. "Colombo Hilton Hotel Construction - Fraud on Sri Lanka Government - Criminality Exposed, but Perversely Covered-up" – Special Presidential Commission Inquiry 1/98
9. "IMF, World Bank & ADB Agenda on Privatisation – 'Dubious Deals' in Sri Lanka – What a Paradox !"
SOURCE: Consultants 21 (Publications) Ltd.
Books are available from publishers, AuthorHouse US & UK http://www.authorhouse.com, http://www.authorhouse.co.uk, and internationally from leading e-retailers. For more information visit: http://www.consultants21.com/publications
AuthorHouse, an Author Solutions, Inc. self-publishing imprint, is a leading provider of book publishing, marketing, and bookselling services for authors around the globe and offers the industry's only suite of Hollywood book-to-film services. Committed to providing the highest level of customer service, AuthorHouse assigns each author personal publishing and marketing consultants who provide guidance throughout the process. Headquartered in Bloomington, Indiana, AuthorHouse will celebrate 15 years of service to authors in Sept. 2011.For more information or to publish a book visit authorhouse.com or call 1-888-519-5121. For the latest, follow @authorhouse on Twitter.
**FOR IMMEDIATE RELEASE**
EDITORS: For review copies or interview requests, contact:
Marketing Services
Tel: 888-519-5121
Fax: 812-961-3133
Email: pressreleases(at)authorhouse(dot)com
(When requesting a review copy, please provide a street address.)
###