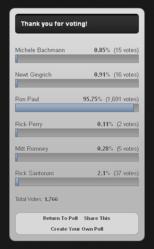 Paul supporters are no strangers to the media bias. After all, it was even worse in the 2008 election cycle.
Columbia, MO (PRWEB) December 15, 2011
The ABC News/Yahoo debate is over. Newt Gingrich is still considered the front-runner and Mitt Romney is in second place…according to the media. Never mind the results of the ABC I-Poll, which showed Ron Paul had a substantial lead, more than 90%, over his nearest competitor, Rick Santorum. Is it the mainstream media's plan to have people believe there is far less interest in Paul than there actually is? Media's bias and flagrant disregard for Paul is just one of the topics covered in the new film, The Ron Paul Uprising, released December 1st by William Lewis Films. One of the main purposes for the release, according to Lewis, the film's director, is to make Ron Paul a household name.
"Paul supporters are no strangers to the media bias. After all, it was even worse in the 2008 election cycle," says Lewis. Now, those backing Paul are finding new ways to get their voices heard. Grassroots efforts are bypassing the alphabet media and counting on alternatives to push Paul into every household. "It is painfully obvious that we are going to have to take matters into our own hands. Paul has a huge following, but if you watch ABC, CBS, NBS, CNN and Fox News, you wouldn't know it. That's why we do what we do," says associate producer Gary Franchi, who also host the Reality Report and has taken to the trenches himself, on Paul's behalf.
After this past weekend's debate at Drake University in Iowa, 1,200-plus students participated in a poll, which offered quite a different view of the debate results, versus the mainstream. Among those who participated, Paul won with 35%, followed by Romney with 25%. Gingrich, the present media "favorite" received only 10%.
"People are fed up with the business-as-usual attitude in D.C. and many see something different in Paul, but if the mainstream media has its way, they will be selecting our candidate for us, like they did in 2008. People need to be made aware of what the media is doing by shutting out Paul. They want others to think he really doesn't have a chance, but that's not true," says the film's writer, Debbie Lewis.
The Ron Paul Uprising asks the pertinent question, who is driving the political bus? One of the clips shown in the film is from a report shortly after Paul's win in the October Values Voters Summit Straw Poll, where the on-camera personality is stunned by Paul's win. The film also discusses why both former Democratic Presidents Jimmy Carter and Bill Clinton are speaking out on the Republican nominee, both of which have discussed Romney's edge.
"Do the disenfranchised masses understand what the media is doing?" asks director Lewis. As expressed in the film, it's time for us to take charge of our own knowledge. Franchi says, "Those who support Paul need be more proactive to counteract the media stronghold on others. The Ron Paul Uprising is just the tool to do it!"
For more information, please visit http://www.TheRonPaulUprising.com.
###