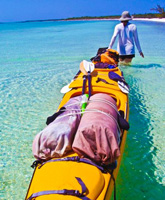 An absolute thrill to travel with Spirit of the West Adventures. All details dealt with, all info and logistics were bang on. Guide knowledge wide and varied. Ultra friendly. Don't want to leave!" Darrell R- many time repeat Spirit of the West Guest
Heriot Bay, British Columbia (PRWEB) December 14, 2011
Known for their high quality of service and gear, environmental ethics and practices, top-notch professional and knowledgeable guides, traveling with this company is always a pleasure.
This trusted company has been expanding their offerings from their original tours in the Vancouver Island area (the realm of the Killer Whale in Johnstone Strait, Desolation Sound and the Nuchatlitz area of the British Columbia coast) to several different and exotic locales around the world over the past year or two and show no signs of slowing down anytime soon.
Spirit of the West Adventures now offers exclusive small group tours to unique destinations such as East Greenland, Chilean Patagonia and the Bahamas. This seems to be just the beginning for this company whose love for travel truly shows in their offerings. They take care of all the details; you pack your passport and enjoy the incredible destinations, gourmet food and world-class kayaking.
Spirit of the West has also just announced a new kayaking route and date for their 2012 Bahamas kayaking adventures. February 12-17th, 2012 will see kayakers exploring the shallow crystal clear waters of the Southern Exuma Cays. Much of this area is too shallow to be accessed by larger boats, making kayaks the perfect way to travel in this area. Sun, sand, kayaks and great company make for an excellent vacation for those wanting an active and unique alternative to a resort type vacation.
Some space is also still available for this winter's Patagonia trips, March 17-28, 2012.
For more information about kayaking in the Bahamas or any of the other locations that Spirit of the West Adventures travels, please call 1-800-307-3982 or 250-285-2121 or visit their website at http://www.kayakingtours.com.
About Spirit of the West Adventures
Spirit of the West Adventures, located on Quadra Island, British Columbia, has run multi-day kayaking tours in the Vancouver Island area for over 15 years. Spirit of the West offers sea kayaking tours around Vancouver Island including Johnstone Strait and the Broughton Archipelago, Desolation Sound, and the Nuchatlitz. International sea kayaking destinations include Chile, Patagonia, the Bahamas and Greenland. Spirit of the West Adventures is Canada's first certified carbon neutral kayaking company.
###