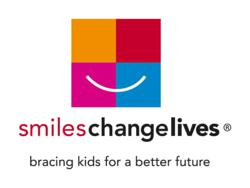 It is life-changing for a child, who had no confidence in themselves because of the way their teeth looked, to be able to smile confidently.
Louisville, KY (PRWEB) December 15, 2011
Smiles Change Lives is seeking applicants, ages 10-18, for its affordable orthodontic care program. Several Louisville area orthodontists are eager to help children in their community. For more information visit http://www.smileschangelives.org
A child's joyful smile is contagious. However, some children are afraid to smile because they are embarrassed by their teeth. In today's economy, this situation can be heartbreaking for families who do not have the resources to pay the full cost of orthodontic treatment.
Thanks to hundreds of caring orthodontists and one national charity, families have an opportunity to help their children obtain affordable orthodontic treatment. Smiles Change Lives (SCL) is now serving low-income kids in the Louisville area thanks to the dedication of several local orthodontists.
These doctors have joined SCL to help provide better care to youth in the Louisville area who cannot afford treatment and don't qualify for other assistance. The doctors will donate their time and talents to treat SCL-approved patients. SCL requires that each patient's family pay a $500 program fee in return for full orthodontic treatment.
"I became involved with SCL because I was excited about the possibility of helping kids who truly had the desire for a terrific smile and a genuine financial need. It is life-changing for a child, who had no confidence in themselves because of the way their teeth looked, to be able to smile confidently. Through my involvement with SCL, I can give one more child a hand up in the world to help s/he become a productive citizen of our community. Through SCL I have the opportunity to be that orthodontist who may make a life-changing difference," says Dr. Amy Farnsworth.
SCL is actively seeking program applicants who meet these criteria:

10-18 years old
Household taxable income at or below 200% of the Federal Poverty Level
Crooked teeth and/or misaligned jaws
Good oral hygiene
Interested families are encouraged to review the program's financial guidelines at http://www.smileschangelives.org/qualify.
Educators, nurses, counselors and oral health professionals are encouraged to nominate or refer candidates to this program. Visit http://www.smileschangelives.org/apply to download an application in English or Spanish or call (888) 900-3554 to request more information or an application by mail.
Louisville area orthodontists who have generously donated their time and skills to SCL include:
Dr. Richard Adrio
Dr. Scott Eberle
Dr. Christopher Edelen
Dr. William Engilman
Dr. Amy Farnsworth
Dr. Bradley Goldberg
Dr. Christian Howell
Dr. Carolyn Jennings
Dr. Chris Mattingly
Dr. Mark Perelmuter
Dr. Robert Spiller
Dr. Carol Summe
Dr. Arthur Wickson
Smiles Change Lives (SCL) promotes and provides access to life-changing, essential orthodontic treatment to children from low-income families. With a growing demand nationwide, our vision is to provide access to braces for all youth suffering from crooked teeth and misaligned jaws. Since 1997, SCL has created more than 1,500 healthy smiles.
###