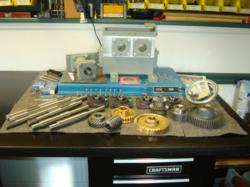 SMT's industrial skills training program is 100% Demand-Driven. The curriculum has been designed by and for manufacturing operations professionals
Londerry, NH & Tustin, CA (PRWEB) December 14, 2011
Scientific Management Techniques (SMT) and Training Funding Partners (TFP) are partnering to streamline the funding and delivery of manufacturing skills training.
SMT has been delivering industrial skills training in industry and education since 1975. TFP has been connecting their clients with state and federal training funding programs since 1994.
"By teaming with TFP our industrial clients can efficiently access federal and state funding opportunities for their employee training programs" states Richard Whouley, SMT Founder and Chairman. "TFP's experience and expertise in identifying and facilitating industrial skills training funding will expedite and expand funding opportunities for our clients. We are very pleased to be affiliated with the number one funding facilitator in the country".
A recent survey from The Manufacturing Institute found that 67 percent of more than 1,100 manufacturers reported a moderate to severe shortage of available, qualified workers. The combination of SMT's hands-on training programs and TFP's funding expertise will provide industrial entities with increased ability to efficiently fund and deliver "Manufacturing Specific" training to address and solve the skills shortage.
Mr. Mark Coleman, CEO of Training Funding Partners, discusses the partnership: "Scientific Management Techniques delivers a uniquely effective solution to the industrial skills shortage. The impact of this skills shortage is quickly becoming a front burner issue as manufacturers look for innovative solutions. We are confident that the combination of our funding capabilities with SMT's training programs will simplify funding and delivery of what we believe is the most effective solution to the acute and growing industrial skills shortage."
In the hiring process SMT's assessment machines identify the most skilled, most capable, most trainable candidates. In the industrial skills training environment the assessment capabilities provide valuable data to identify training needs and quantify the exact cost/ROI of industrial skills training. Pete Bachert, SMT's Director of Training explains: "pre-training assessments benchmark skills to identify specific strengths and weaknesses. With this data we design and deliver highly targeted training programs. Post-training assessments measure the effectiveness of training and provides data to quantify the specific ROI delivered. This process provides our manufacturing clients the ability to deliver highly effective, cost efficient training."
About Scientific Management Techniques:
Scientific Management Techniques is the global leader in performance based skill assessments for industry. The assessment capabilities, together with their demand-driven skills training program, are used in manufacturing and education organizations in 31 countries to solve the skills shortage and drive industrial productivity.
Contact: Stephen Berry
sberry(at)scientific-management(dot)com
http://www.scientific-management.com
603-421-0222
About Training Funding Partners:
Training Funding Partners is the leading standalone provider of training reimbursement services to its clients across the nation. TFP delivers bottom line results through direct reimbursements or tax credits. Its turnkey services enable companies to focus on assessing, developing and delivering their training while working on a performance-fee basis to bring cash flow and cost reduction to its clients.
Contact: Mark Coleman
mcoleman(at)tfpgroup(dot)com
http://www.tfpgroup.com
714-259-7320
###