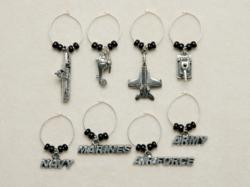 "The USO brings cheer to soldiers, we want to be a part of helping their goodwill continue."
Olympia, WA (PRWEB) December 15, 2011
In an ongoing effort to continue support for the troops, the WineRackStore.com has found a new way to help the military and their families this holiday season though their sales of wine charms.
With company headquarters located just 30 miles south of Joint Base Lewis-McChord, WineRackStore is surrounded by military presence and understands the need to show support. "Military families make up a huge percentage of our community, they make sacrifices every day for us and we want to show our appreciation for them this this holiday season," said Mike Kitson, Owner of WineRackStore.com.
From now until the first of the New Year, WineRackStore will donate 50% of all proceeds made through sales of the military themed set titled 'Mighty Military' to the USO. "The USO brought cheer to my husband and his fellow soldiers while they served in Iraq one Christmas, we at the WineRackStore want to be a part of helping that goodwill continue." said Director of Communication, Heather Hoskins.
The 'Mighty Military' themed wine charms come in a set of eight with silver charms depicting a helicopter, ship, plane and tank and the words 'Navy,' 'Marines,' 'Air Force,' and 'Army'. These charms can also be customized in bead color and charm variation.
WineRackStore.com has been selling quality pre-made and custom built wine racks, cellars and wine accessories since 1995. WineRackStore.com is A+ rated from the Better Business Bureau. All products are locally crafted in Olympia, WA and are shipped free anywhere in the U.S.A.
###