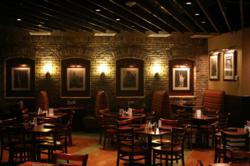 VetFran is the single best way to thank the men and women who serve our country and protect the free enterprise system under which we live.
Houston, TX (PRWEB) December 14, 2011
While more and more veterans returning home from long months of war are finding themselves in a country with narrowing opportunity, Russo's New York Pizzeria is on a mission to make a difference. The company has announced its membership in the national VetFran Program and will immediately begin offering discounts to veterans of the U.S. Armed Forces who want to own a Russo's franchise.
Russo's will provide a $10,000 credit towards the franchise fee of a qualified candidate's first store.
"Veterans come back with strong leadership skills and a thorough understanding of teams," said Anthony Russo, Founder of Russo's New York Pizzeria, noting just like in the military, in franchising, the mission is accomplished by the team. "We are proud to offer this incentive to our nation's finest and look forward to adding more veterans to our franchise network."
Endorsed by the International Franchise Association (IFA) and supported by the U.S. Department of Veterans Affairs, the Veterans Corporation and the U.S. Small Business Administration, VetFran includes more than 400 IFA franchisor member companies offering financial incentives, training and mentoring to veterans interested in small business ownership and/or a career path in franchising. Since the program's inception in 1991, more than 2,100 veterans have become franchise business owners through VetFran.
According to a recent study conducted for the International Franchise Association Education foundation, one out of every seven franchises are owned and operated by veterans of the U.S. military, totaling more than 66,000 businesses nationwide. These businesses provide jobs directly for 815,000 Americans and generate more than $41 billion in gross domestic product.
"VetFran is the single best way to thank the men and women who serve our country and protect the free enterprise system under which we live," Russo added. "As a participant in the program, Russo's New York Pizzeria can provide veterans with an avenue for their future and a career opportunity for a life outside of the military. It's the least we can do to thank them for their courage and sacrifice."
Just like the military, franchises run on systems. Russo's is no different, providing the training, guidance and support a new business owner needs to succeed – from comprehensive franchisee training and support in site selection and other start-up matters, to ongoing reviews, innovation and communication of best practices.
About Russo's New York Pizzeria and Russo's Coal-Fired Italian Kitchen
Russo's operates with a simple promise: "If it isn't fresh, don't serve it." Founded in 1992 by Chef Anthony Russo, Russo's New York Pizzeria is known as the only place to find authentic New York Pizza and Italian dishes in Texas. Russo launched his Coal-Fired Italian Kitchen concept to complement the Pizzeria in 2008, with an expanded selection of Italian menu items. Current company operations include 28 restaurants in three states, with plans for significant expansion through franchising in key U.S. markets already underway. For more information and to learn about available franchise opportunities visit http://www.russorestaurants.com.
# # #