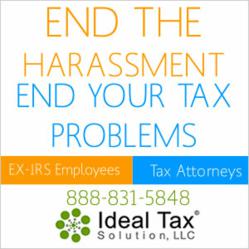 State and Federal debts differ case by case but it is genuinely easier to have someone handle them both at the same time
Costa Mesa, CA (PRWEB) December 13, 2011
When owing the IRS back taxes seemed overwhelming enough, it's come to light that many people also owe State tax debts simultaneously. While it seems like too much to handle, both can now be dealt with together. Tax professionals are now able to work with the IRS and the State on behalf of the tax payer in settling their tax debt. According to the Internal Revenue service (IRS) many people confuse notices from the State showing a balance as a federal debt, but in truth, millions of people owe both the IRS and the State in which they live.
While one may think that moving to a different state can eliminate such a debt, this is simply wishful thinking. Tax professionals can now help kill two birds with one stone. According to Richard Schultz, an enrolled agent at Ideal Tax Solution, "State and Federal debts differ case by case but it is genuinely easier to have someone handle them both at the same time." The IRS and State do not work together, so resolving these situations by one's self can be extremely difficult. Like the IRS, the State can garnish your wages; levy your bank accounts, place liens on your property, etc.
According to Ideal Tax Solution, Many Americans who tend to seek help in their federal tax issues unfortunately put State debts on the bench. Imagine getting a wage garnishment removed in lieu of an IRS problem, just to have the State begin to garnish wages. Now handling both debts at the same time can eliminate this potential hardship. The new program offered by Ideal Tax Solution states that clients who owe both to the IRS and State simultaneously, will be protected by the company's legal power under the tax payer's right for representation. Therefore the program allows a full horizon of protection from either local or federal revenue agencies. Dealing with the IRS and State alone is a tricky and stressful business. Tax payers who have outstanding debts nowadays have even more options than they ever did before. Just be aware that dealing with one's tax problems is a serious matter and dealing with the situation now will make all the difference. Choosing a professional firm in the end can really pay off.
About the company: Ideal Tax Solution, LLC is located in Costa Mesa, CA and provides tax negotiation services, preparation and is a collection defense specialist. Their Tax Attorneys, IRS Enrolled Agents, CPAs, Senior Tax Consultants have over 55 years of combined experience working to help American tax payers with the IRS and State Tax Agencies. Ideal Tax boasts an "A" rating with the Better Business Bureau earned through providing excellent services.
###