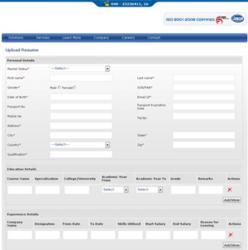 With these new features, the SutiHVM solution is more automated and enables companies to perform Talent Management more effectively." - said N.D. Reddy, founder and CEO of SutiSoft, Inc.
Los Altos, CA (PRWEB) December 14, 2011
SutiSoft Inc., a trusted provider of Software as a Service (SaaS) and enterprise solutions, today announced the release of SutiHVM 3.2, its solution for simplifying the human resource management process. The release adds importing resumes from website, automatic email notifications, talent search, built-in payroll process processing, resume parsing, team goals make it an extensive HVM solution.
The easy-to-use, web-based solution eliminates manual effort, time delays, paper and administrative costs. SutiHVM improves efficiency of workforce, accuracy of information flow, compliance to regulations and adherence to company policies.
The extensive reports help HR managers to quickly get hands-on information on various aspects on the candidate recruitment to employee retirement lifecycle.
New Features Include
Resume Parsing
Resumes in Microsoft Outlook, local folders and popular email clients can be parsed and quickly imported into SutiHVM, eliminating the need to enter data manually.
Microsoft Outlook Integration
Emails containing resume attachments in Microsoft Outlook are read and displayed in SutiHVM for easy importing.
Team Goals
Managers can create goals for their team, track their completion and evaluate a team member's performance. at the time of individual performance appraisals.
Attendance Synchronization
Using the details of clock-in and clock-out, attendance is calculated and shortage details (if any) are displayed to the Time Management Admin.
Payroll with Timesheets
Create timesheets using parameters such as payroll days, paid days, and more to generate employee payroll.
SutiHVM is available in multiple versions: Small Business, Professional and Enterprise. Visit http://www.sutihvm.com for more pricing and more information.
About SutiSoft Inc
SutiSoft Inc. is a privately held company founded by N.D. Reddy, a successful Entrepreneur with over 30 years of experience in both the Hardware and Software industry as a Founder, and CEO. The Company's leading edge enterprise/SaaS application software products range from business productivity solutions such as Electronic Signature, Expense Management, Document Control Systems, Governance, Risk and Compliance, Security Solutions and others. The company's products are developed using Java, Flex, HTML 5, AJAX and other cutting-edge technologies which allow SutiSoft to retain its core values which are Simple, Scalable, Secured, and Seamless. Headquartered in Los Altos, California USA, SutiSoft has offices in Northern California, India, Germany and Japan. Additional information is available at http://www.sutisoft.com.
###