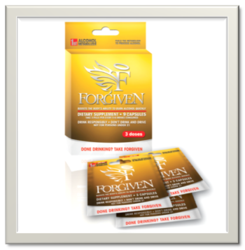 Las Vegas, Nevada (PRWEB) December 15, 2011
The first television commercials promoting Forgiven Alcohol Metabolizer aired this past weekend on Dish Network. Forgiven, manufactured by Forgiven Bottling Group and distributed exclusively by RH Laboratories, is the only product of its type available. The campaign's primary purpose is to create awareness about the product and the new category it has created.
The national ad campaign includes television, radio, and online banners all strategically implemented to reach their young, active demographic. The elements will roll out in multiple phases, each optimized to out-perform the preceding phase.
In addition to television spots on Dish Network, Forgiven will advertise on CBS Sports and male-skewing cable networks in select markets.
Last to roll out will be the radio campaign, which will also target young adult men by running on various sports networks throughout the country.
To date, Forgiven has participated in multiple grassroots marketing initiatives and relied heavily on word-of-mouth and social media to gain popularity. This campaign marks their first foray into national traditional media. It comes just on the heels of the company announcing that Forgiven is now available in CVS and GNC stores nationwide.
About Forgiven Bottling Group
Chas Aday and TJ Lavin formed Forgiven Bottling Group in 2009. Their product, Forgiven, is the first and only product on the market that has been shown to increase the rate at which the body processes alcohol. In the initial clinical trial, the average increase in metabolic rate was over 500 percent. The product's proprietary blend of all-natural ingredients includes organic acids, amino acids, vitamins, and herbs that increase the body's metabolic rate while restoring the necessary amounts of essential vitamins and nutrients.
About RH Laboratories
RH Laboratories manufactures RockHard Weekend, an all-natural male sexual performance enhancer as well as Pandora, an all-natural sexual enhancer for women. RH Laboratories is constantly using innovative techniques to promote their products not only as supplements but also as a lifestyle. In addition to the products RH Labs manufactures, they are the exclusive distributor of Forgiven, the world's first alcohol metabolizer.
###