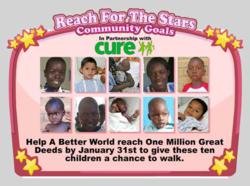 Lemoyne, PA (PRWEB) December 14, 2011
Today, ToonUps and CURE International announced a partnership to bring healing to children through the use of Facebook gaming. ToonUps, maker of the popular social good game, A Better World, recently introduced its first "Reach for the Stars" Community Goal. This feature invites players to do good deeds in the real world and report about them in the game. In doing so, players earn dollars for a charitable cause.
CURE International was chosen as the first beneficiary of the Reach for the Stars feature. The initial venture between the two organizations will result in the healing of 10 children in the developing world who have a curable disability.
"Our new Reach for the Stars activities have been designed to promote a sense of goodwill and camaraderie among players. At least once a quarter, we will offer an opportunity for community members to work together to achieve something positive in the real world through activities in the game," MarySue Hansell, COO of ToonUps, creator of A Better World, explains. "Our members have told us they love the idea of doing good for others and being a part of an online community that is uplifting and values driven."
Players of the A Better World will be able to see the faces of the exact children they are helping to heal from within the game.
"We are thrilled to bring the positive emotional involvement that players love about A Better World to the real world to benefit children who have little hope of receiving the medical care they need," said Joel Worrall, Vice President, cure.org.
Players in the game perform actions called "positive expressions" which can take the form of writing encouraging thoughts or sending uplifting messages to other players. If the community generates one million positive expressions, ToonUps will donate $10,000 to CURE.
Anyone can sign into Facebook and participate. The game is free to play; consumers can visit http://abetterworld.com/cure to sign up. In addition, players can join the CURE community for A Better World (http://cure.org/abetterworld). There, players will be able to follow along with story of each of these kids before, during and after their surgery using Facebook or email.
More about CURE and ToonUps
CURE International heals the sick and proclaims the kingdom of God. It is the largest provider of reconstructive surgery to disabled children in the emerging world. Since opening the doors of its first surgical teaching hospital in Kijabe, Kenya in 1998, CURE's focus on bringing healing to developing nations has resulted in more than 1.5 million patient visits and over 121,000 surgeries to correct physically disabling conditions. CURE has also trained more than 2,400 medical professionals raising the standard of care in the countries where it operates. Please visit http://cure.org for more information.
A Better World was created by ToonUps, a digital entertainment company whose mission is to create online games and apps to brighten the world. Since the turn of the century, ToonUps has created a rich array of products in the business, prosumer and consumer marketplaces, all designed with the purpose of uplifting people through optimism, altruism and fun. From social gaming to business training, their innovative content brings these core themes to new markets. ToonUps is headquartered in Wayne, Penn. For more information, please visit http://toonups.com.
###