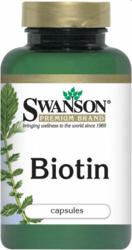 Consumer reviews are nearly 12 times more trusted than descriptions provided by manufacturers.
Fargo, ND (PRWEB) December 15, 2011
Consumer reviews are nearly 12 times more trusted than descriptions provided by manufacturers, according to a survey conducted by EXPO, a consumer-oriented video review website. Product recommendations from friends and family members are regarded as the most influential, but there is a lot of value placed on the opinion of strangers. Swanson Health Products encourages their customers to post reviews on swansonvitamins.com where other customers have the opportunity to learn more about the products from a first-hand perspective.
The following natural health products are the top customer-reviewed products of 2011:

Swanson Premium Biotin: "Since I have been taking biotin, my fingernails have grown harder and I can grow them long which I have never done before. Also my hair grows faster and is in better condition… and the cost is reasonable."
Swanson 100% Pure White Chia Seed: "Wonderful product at a great price! I eat chia seeds every single day… to get an abundance of your daily needed omega 3's and 6's and even more! They have NO taste or flavor of their own so you can add them to anything drinkable or edible (or just scrunch them by themselves) Nutritious and energizing food!"
Y.S. Organic Raw Honey: "Best quality honey for a great price. Raw honey is hard to find without paying a lot for it. Thanks again Swanson's for making healthy living more affordable."
Swanson Ultra Himalayan Crystal Salt: "I bought this salt from Swansons in the past but when I ran out I purchased some elsewhere. The taste didn't even touch this one. I would highly recommend buying only from Swansons - it is great!!"
Lugol's Iodine: "I can really tell a difference in my energy level after using this product for a few days. I will continue using product and recommend to others."
Kirk's Original Coco Castile: "Great product. I have very dry skin. With this soap, I no longer need to apply moisturizer to my skin after bathing. My skin retains moisture now. Wow! What a difference from regular soap."
Nature's Way Alive! Whole Food Multi (No Iron Added): "I purchased the Alive brand because of the fruits and vegetables included in the product… My energy level increased. Most vitamin supplements take up to a month to receive any benefit. I will continue taking Alive and I have recommended it to several people."
Swanson Health Products is an industry leader in bringing vitamins directly to consumers at the lowest prices possible. Swanson Health Products, headquartered in Fargo, ND, offers the highest quality vitamins, supplements and natural health care products and is Good Manufacturing Practices certified. Swanson Health Products goes a step beyond its competitors by offering powerful guarantees. All products are backed by a 100% Satisfaction, Money-Back Guarantee. For more information, please visit http://www.swansonvitamins.com.
###