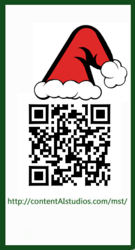 MySantaTalk introduces a new format of interactive, mobile storytelling
Portland, Oregon (PRWEB) December 14, 2011
Watch out SIRI, Santa Claus is coming to town.
contentAI studios have released their annual Holiday mobile interactive story and chat with Santa, MY SANTA TALK reaching all mobile devices on;

My Santa Talk is an interactive chat and story with a virtual Santa that also includes a rich graphical environment.
With the release of "MY SANTA TALK," the contentAI studios conversational mobile marketing platform features it's new mobile User Interface (Version 1.0) as it leaves Beta. Deeper integration of graphics with "chat" with virtual characters and Brand Agents is now delivered seamlessly on a single mobile page or within native mobile apps and is applied to:
Conversational Mobile Marketing
Mobile Entertainment and Interactive Fiction
Mobile Learning
contentAI studios produce conversational mobile applications for mobile marketing, entertainment and mLearning. Their mLearning division is focused on English-as-a-Second-Language ("ESL" "ELL") simulations (http://eslAI.com) which regularly receives visitors from over 80 Countries each month.
Cofounder, Eric Weymueller, describes the future of conversational text mobile marketing and mobile interactive fiction as: "Kids will engage in conversations with characters on cereal boxes. Adults will engage in personalized conversations with motion picture and television characters through NFC smart posters. Consumer packaging will truly be "intelligent." Mobile simulations for language, history and health are all slated for production with our platform. At heart, mobile devices are about communication. That's what the contentAI platform facilitates."
The MY SANTA TALK app is graphically rich, coupled with a personalized interactive narrative. It is delivered at no cost and is designed to be child safe and friendly (no personal data is acquired in the engagement). Delivered over mobile web, it requires a data plan but does not incur any SMS costs.
Weymueller continues, "Two-way, real-time communication on mobile devices with virtual characters and virtual brand agents will span applications from "intelligent packaging," to interactive fiction, to mobile learning. Our analytics show users engaging for up to 32 minutes in chats with virtual characters – People are delighted by them."
contentAI studios, eslAI.com and MySantaTalk are imprints of zyntroPICS Inc. (http://zyntroPICS.com), a privately held Company based in Portland, Oregon. zyntroPICS Inc. are engaged in the development of mobile technologies with a focus on story driven content.
# # #