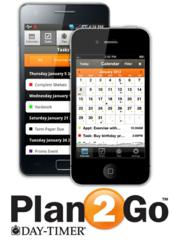 East Texas, PA (PRWEB) December 15, 2011
Day-Timer is creating a new generation of organized smart phone users with the release of Plan2Go, a new mobile app that syncs Outlook tasks and your favorite web-based calendars while on the go.
Available for iPhone and Android devices, Plan2Go leverages Day-Timer's decades of time management leadership, offering a wealth of advanced planning features designed to help users make better use of their time, including:

Free Outlook task sync - no costly subscriptions or upgrades
Combined task/calendar view - no jumping between apps or screens
Facebook connection - import events, post to your wall
Sync your favorite Web-based calendars including Google & Yahoo
Advanced task and appointment sorting features
Productivity and planning tips for daily motivation
Plan2Go stands out in the crowd of productivity apps by matching powerful features with a time saving, cost saving experience that's easy to integrate into everyday life.
"We really wanted to raise the bar and give our mobile customers the definitive planning app they can use to gain better control of their busy and on-the-go lives," said Martha Curren, Day-Timer General Manager. "With features like wireless sync and Facebook integration you can stay totally connected wherever you are – from your office to your car to your home."
Plan2Go is available now through Apple iTunes store or Android Market at the low introductory price of $7.99. For more information, visit the Day-Timer website: http://www.daytimer.com/apps
About Day-Timer:
Day-Timer is the most recognized name in personal productivity and organization. Incorporating proven time management principles, Day-Timer helps individuals achieve their personal and professional goals, prioritize the activities that matter most, and balance their work-life commitments.
Website: Daytimer.com (http://www.daytimer.com/)
Day-Timer is a subsidiary of ACCO Brands, a world leader in office products, with products marketed in more than 100 countries across the globe.
Contact Information
Jeff Doubek
Day-Timer Spokesperson
jeff.doubek(at)daytimer(dot)com
610-530-6506
###