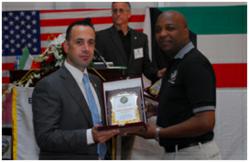 It is an honor that ANHAM can be a part of the AUSA's Thanksgiving Celebration and show our support for the troops
Vienna, VA (PRWEB) December 14, 2011
ANHAM FZCO, a leading contracting firm working throughout the Middle East, North Africa, Central Asia, and European regions, was recently a major sponsor for the Association of the United States Army (AUSA) 5th Annual Thanksgiving Event. The AUSA Kuwait Chapter hosted over 300 US military service members for the holiday event held at the Sea Shells Resort in Julai'a, Kuwait and 200 troops and over 50 AUSA volunteers and sponsors at the Kuwait National Guard Officers Club.
ANHAM helped the Chapter provide food along with opportunities for fun and relaxation at the Sea Shells Resort. Activities included swimming, games, gifts from AUSA sponsors, and musical performances provided by the local band.
"It is an honor that ANHAM can be a part of the AUSA's Thanksgiving Celebration and show our support for the troops," said Mr. A.H. Farouki, CEO and Chairman of ANHAM.
The US Ambassador to Kuwait and other distinguished guests also joined the troops for a Thanksgiving Banquet that was held in the evening. The banquet provided an opportunity to applaud the many sponsors who were vital in helping to provide the troops a day away from the military camps.
About ANHAM FZCO
ANHAM FZCO (http://www.anham.com) is a leading contracting firm working throughout the Middle East and North Africa ("MENA"), Central Asia, and Europe. With a century's worth of experience between its principal founding companies, ANHAM is able to efficiently, effectively, and affordably deliver products and services throughout the world. Headquartered in Dubai, UAE, ANHAM has international offices that specialize in providing local support and services to its initiatives, projects, and investments across diverse regions of the globe.
###