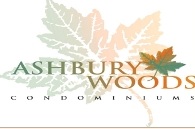 Milwaukee, WI (PRWEB) December 13, 2011
Mature trees and a private location make Ashbury Woods' Germantown condos among the nicest metro Milwaukee condo communities. The 24-acre all-play-no-work community created by Fiduciary Real Estate Development is currently featured in the JSOnline Development Spotlight article titled "Ashbury Woods Condominiums: Affordability in the heart of Germantown."
The JSOnline House and Home Section article reports on the home-buying experience of Christy and Eric Westfall. The couple, who enjoy camping and exploring the great outdoors with their beloved pooch, fell in love with Ashbury Woods. The Germantown pet-friendly condo community offered them the chance to leave property maintenance to professional groundskeepers so they could spend their time swimming in the pool, playing tennis or basketball in the community courts, or simply kicking up their feet in their living room.
"We like the wooded area of the property—there are places to walk the dog," says Christy in the article. "It feels like we're in the country, but we're close to shopping." Nearby seasonal activities include strawberry, apple and pumpkin picking and snowmobiling. The natural terrain of the Kettle Moraine makes it a perfect playground for outdoor enthusiasts all year round.
In addition to the location, the Westfalls say they were attracted to the idea that they would not have to spend their free time shoveling snow or cutting the lawn. They liked the oversized rooms and walk-in closets in each bedroom. They were also impressed by the thoughtful renovations Fiduciary Real Estate Development made when converting the complex from condos to apartments.
Every unit is updated with new cabinets, granite countertops, stainless steel appliances, flooring, moldings, lighting fixtures and hardware. Units also contain washers and dryers. "They did a really nice job with the upgrades," said Christy. "It looks and feels new."
With one-bedroom, one-bath units starting at $79,900—Asbury Woods is a true value. And—like with all real estate—it's all about the location. Situated about 14 miles from Milwaukee, the charming community of Germantown has been listed by Money Magazine as one of the best communities in the nation to live and work.
For more information about the Ashbury Woods condominiums or any of Fiduciary Real Estate Development's other homes or services, please call (414) 226-4535 or visit them on the web at http://www.fred-inc.com.
About Fiduciary Real Estate Development
Founded in 1985, Fiduciary Real Estate Development is a Metro Milwaukee real estate developer that specializes in property management, new construction and condominium conversions.
###