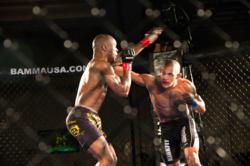 You can almost touch the fighters and if one of the fighters gets hit and sweat is flying your way, you are going to duck and avoid it,"
Orange County California (PRWEB) December 14, 2011
BAMMA USA has been the most active mixed martial arts provider in Southern California producing seven action-packed installments in 2011, and now sports fans can view their adrenaline filled events in 3D for the first time ever. 3net, the joint venture between 24/7 network from Sony, Discovery and IMAX, has combined forces with Digital Revolution Studios (DRS) and BAMMA USA to televise the mixed martial arts fights in 3D from this past year with BAMMA USA FIGHT NIGHT starting on December 15 at 9PM ET/PT on 3net (DIRECT TV channel 107).
Combining the fastest growing sport in the world with three-dimensional entertainment provides the ultimate viewing experience. "MMA in 3D puts you so close to the action that you feel as if you are in the cage with the referee. You can almost touch the fighters and if one of the fighters gets hit and sweat is flying your way, you are going to duck and avoid it," said BAMMA USA chief executive officer Brett Roberts.
"3net is always looking to bring our viewers the most diverse and compelling 3D programming available," said 3net's President and CEO Tom Cosgrove. "The action-packed sport of MMA is the kind of big event 'first-ever' 3D content our consumers have come to expect."
For the first time ever, viewers can anticipate hours of 3D eye-catching entertainment including live commentary, slick submissions, exciting knockouts and competitive fights from some of the most promising talented athletes on the west coast. Each and every event provides different results and increasing excitement which is one of the reasons why DRS decided to work with the mixed martial arts promotion.
Digital Revolution Studios President Craig Tanner specified why it was a good match to work alongside the top Southern California MMA provider stating, "DRS was excited to work with BAMMA USA, not only for the solid reputation BAMMA USA had in the MMA community, but also because of their constant commitment to increase the quality of fighters and production value of each event."
To view the highlights of this upcoming program please visit the official BAMMA USA YouTube channel – http://www.youtube.com/bammausa or by visiting their website at http://www.bammausa.com.
About BAMMA USA:
BAMMA USA is a Mixed Martial Arts promotional company specializing in creating live entertainment featuring both professional and amateur combatants looking to take their career to the next level in the sport. Their professional circuit is known as Badbeat MMA and it matches up local rising stars from across the west coast whereas the Amateur League Fighting Alliance (ALFA), their amateur circuit, features interested locals to test their abilities in the cage. While the promotion prides themselves on their motto: "Keep Moving Forward" the ultimate passion for BAMMA USA is to create an environment in which fighters are truly valued.
About 3net:
3net, the joint venture of Sony Corporation, Discovery Communications and IMAX Corporation brings together three of the world's leading media, technology and entertainment companies to provide the nation's first and only fully programmed, 24/7 3D network. The three partners deliver an extraordinary collection of award-winning 3D content, technology and production expertise, television distribution and operational strength to the project, with a mission to bring viewers the highest quality and most immersive in-home 3D viewing experience possible. The channel will feature the most extensive library of 3D content in the world by the end of 2011, featuring genres that are most appealing in 3D, including natural history, documentary, action/adventure, travel, history, kids and family, hyper-reality, lifestyle and cuisine, concerts, movies, scripted series and more. 3net is currently available on DIRECTV channel 107. For more information, please visit http://www.3net.com.
About DRS:
DRS has originated a number of firsts in the S3D industry; from the first award show filmed entirely in native 3D (I3DS 2011 Creative Arts Awards - Your World in 3D), to the first S3D sportumentary (Bullproof). In the year 2011 alone, DRS will have had 14 separate programs airing on 3net. Currently, DRS content is being distributed domestically and internationally on multiple networks and glasses-free devices. Current 3D projects of DRS include a TV comedy: NewsTank, and 2 feature documentaries: Humor & Heartache of War and Road To Paradise. For more information on DRS, please visit http://www.drs3D.com.
Contact:
Brett Roberts
BAMMA USA Promoter
714.912.8822
info(at)bammausa(dot)com
Gina L. Tanner
Digital Revolution Studios, Inc.
818.539.4044 x2102
gina(at)drs3D(dot)com
Tyler Lawrence
BAMMA USA Media Relations
949.300.3228
tyler(at)pr4mma(dot)com
###