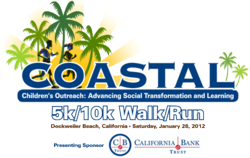 This year, we are expecting an even larger turn out and with that, the ability to make a greater impact on our community.
Los Angeles, CA (PRWEB) December 19, 2011
Los Angeles, January 28, 2012 – The Pepperdine University Graduate School of Education and Psychology (GSEP) through the generous support of their presenting sponsor California Bank and Trust will be holding its second annual Children's Outreach: Advancing Social Transformation and Learning (COASTAL) 5k/10k Walk/Run at Dockweiler Beach to raise funds for Children's Mental Health.
Over 700 runners participated in last year's event enabling Pepperdine to offer 200 hours of one-on-one counseling for children at the Union Rescue Mission's residential facility for homeless mothers and children in Hope Gardens. Funds also helped create a lunchtime, after-school, and summer science and technology lab at Holmes Avenue Elementary School.
"We were stunned at the amount of support we received for this endeavor and the amount of good we were able to do because of it," said Dr. Margaret Weber, dean of GSEP. "This year, we are expecting an even larger turn out and with that, the ability to make a greater impact on our community."
Several food trucks including Del's Lemonade, Global Soul, Me So Hungry and Flying Pig will be on site until noon. With activities set up for youth such as face painting by ExpressionS, Mural painting by the Young Artist Studio, a Kid's Kraft Korner and the Kiddie K, participants are encouraged to bring children to this family friendly event.
The street of Vista Del Mar will be closed promptly at 7:30am, so participants need to arrive at 7:00am to park in the Dockweiler lot. The race begins at 8:00am. Participants can walk or run along the beautiful shoreline street of Vista Del Mar, to finish in the beach parking lot. The course is considered fast for a great personal record.
1 in 5 children has a diagnosable mental illness. Nearly two-thirds of these kids receive little or no help, leading to a decline in school performance, depression, and persistent disobedience or aggression. Proceeds from the COASTAL Walk/Run will go towards combatting this reality.
To register for COASTAL, please visit http://gsep.pepperdine.edu/coastal/. Race packet pick-up and late registration will take place at Road Runner Sports, 25359 Crenshaw Blvd., Torrance, CA 90505 on Saturday January 21, from 11:00am to 6:00 pm, and Friday January 27th at California Bank & Trust, Santa Monica Branch, 100 Wilshire Blvd., Santa Monica, CA 90401 from noon to 6:00pm. Participants can also register on-site on race morning at Dockweiler State Beach, Playa del Rey, beginning at 6:30 am.
Over 1,000 participants are expected for this year's run.
Time: 8:00am
Address: Dockweiler State Beach in Los Angeles, at the west end of Imperial Highway at Vista del Mar
Fees (5K/10K): $30 for general public, $25 for Pepperdine students, and $15 for Kiddie-K run.
Parking: Please carpool as beach parking rates will be in place.
About the Pepperdine University Graduate School of Education and Psychology (GSEP)
GSEP is an innovative learning community where faculty, staff, and students of diverse cultures and perspectives work collaboratively to foster academic excellence, social purpose, and personal fulfillment. Through its integrative course work and practical training, GSEP prepares students to serve the needs of others through skilled leadership. GSEP offers seven master's and four doctoral programs across its five graduate campus locations throughout Southern California and online. Programs are fully accredited by the California Commission on Teacher Credentialing, the Western Association of Schools and Colleges, and the American Psychological Association. For more information, visit: gsep.pepperdine.edu.
About California Bank & Trust
Starting as a group of individually-owned banks throughout the state, California Bank & Trust (CB&T) has helped Californians and their businesses grow and prosper for over 50 years by combining the responsiveness of a local bank with the comprehensive services offered by major financial institutions. CB&T is among the leading banks in California with over $10 billion in assets and branch offices located throughout the state.
###