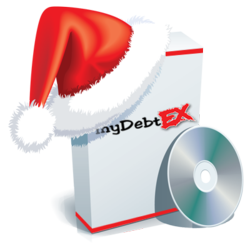 Sometimes asking for help is the hardest part of getting out of a bad situation, including debt. So rather than waiting for that someone to ask you for help, you can give it to them in the form of myDebtEx™ as a holiday gift." said Kim Miller
Freeport, IL (PRWEB) December 14, 2011
As the creators of myDebtEx™, a complete do-it-yourself debt relief software program, JLL Solutions encourages people to give the gift of debt relief.
This holiday season, if you have a family member, friend or loved one that is deeply in debt, give them the gift of debt relief.
"Sometimes asking for help is the hardest part of getting out of a bad situation, including debt. So rather than waiting for that someone to ask you for help, you can give it to them in the form of myDebtEx™ as a holiday gift." said Kim Miller, Strategic Marketing Analyst for JLL Solutions LLC. "As a Holiday Special we are offering free shipping on all orders."
myDebtEx™ helps people save thousands of dollars by either assisting them in negotiating their own Debt Settlement, Modification/Credit Counseling, Combination and/or Pay + (Plus) strategy.
Take advantage of myDebtEx™ for only $99.99 which includes Free Shipping during the Holidays.
Happy Holidays from JLL Solutions LLC!
Availability
The latest version of myDebtEx™ is available at the JLL Solutions internet website: http://www.mydebtex.com
To learn more about myDebtEx™ and this special Holiday offer please visit http://www.mydebtex.com/holidays.html
About JLL Solutions
JLL Solutions is an Illinois based company that delivers state-of-the-art technology solutions to the financial, real estate and health care industries. As a global provider of software development and software products, JLL Solutions provides industry professionals and consumers with software applications that are user friendly and that bring value to their unique situation.
More Information can be found at http://www.jllsolutions.com
Contact Information:
Luke Veitch
815-401-9704 ext. 102
luke(dot)veitch(at)jllsolutions(dot)com
###