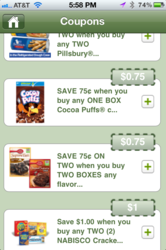 We've done a good job of taking the work out of saving money
NEW YORK, New York (PRWEB) December 15, 2011
Shopper, a leading smartphone shopping app reported results from its first 4 months delivering printable coupons to busy smartphone shoppers. Those included:

The average coupon user saved $13.44/week on their grocery bill, representing a 9% savings for a household of 4 spending $150/week on their grocery bill.
The most popular coupon categories vary significantly from state to state across the US. There was no single coupon that was a top 5 pick in every state. Top coupons by state can be found on the Shopper website under $avings.
Increasing demands for coupons from a broader selection of brands and healthier products.
On the lighter side, while politicians in Washington DC have trouble agreeing on a budget, the residents of Washington DC are by far the largest per capita users of Shopper for savings, followed by Washington state and Georgia to round out the top 3.
"Once our shoppers discover how easy it is to get savings using Shopper they are ecstatic. We've done a good job of taking the work out of saving money" said Sean Flynn, CEO of the Purchase Decision Network, "Extreme couponers get a lot of attention but spend a ton of time on it. We've showed that even the busiest moms – who use Shopper primarily to save time - can save significantly with minimal extra effort using Shopper."
Shopper uses proprietary shopping keyword technology to automatically match what users are shopping for with everything from coupons and store savings to nutritional information. Mr. Flynn added: "We help the individual shopper by matching their shopping lists with savings. But we've also made it easy for them to help others by sharing their savings links with each other. Given the regional variation we see in coupon preferences we hope this evolves into a powerful tool for community personalization of our savings offers."
Shoppers can visit http://www.MyShopperApp.com for more information and to download the application.
About The Purchase Decision Network and Shopper
The Purchase Decision Network (New York) owns Shopper, which has been downloaded by over 1 million users from the iPhone, Android, Blackberry and now Intel AppUp stores, where it continues to delight consumers with a simple and intuitive interface. Shopper saves time and effort on everyday shopping, automatically matches shopping lists to savings offers, and shares lists, recipes, tips and savings with friends and family.
Contacts
Sean Flynn, CEO
The Purchase Decision Network
(888) 816-8125
pr(at)pdnmedia(dot)com
###