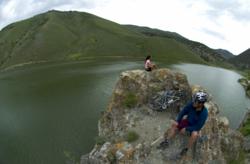 Artists are thrilled and love to perform at the Eureka Opera House. They request to come back year after year. I should also add that it's a perfect place for a themed wedding.
Pony Express Territory, NV (PRWEB) December 15, 2011
While many people visit Nevada for its ornate casinos, flashy shows and energy charged night life, another realm of opportunities exist often described as down and dirty or historic and modest. For 2012, there are six key attractions in northern Nevada's Pony Express Territory that travelers won't want to miss. Each attraction is discovered in one of the six friendly towns along Highway 50 where Pony Express Riders once traveled through the heart of Nevada.
The area officially designated as Nevada's "Pony Express Territory" encompasses six main towns with approximately two hours of driving distance between each − Dayton, Fallon, Fernley, Austin, Eureka, and Ely. The routes that link these towns have come to be known as one big 17 million acre museum. The "museum" greets visitors with expansive terrain, natural wonders, historical heritage and one-of-a-kind events found only in this area of the rugged West.
Visitors can drive the entire territory from one end to the other (approximately 409 miles) in about 6.5 hours (at 65 miles per hour) whereas by horse, Pony Express Riders took approximately 41 hours to cover the territory. Travelers may choose to start their journey in Dayton or in Ely. Another option is to journey directly to a select town to partake in its unique festival, event and/or year-round attraction.

"Artists are thrilled and love to perform here and request to come back year after year," said Andrea Rossman, opera house director. "I should also add that it's a perfect place for a themed-wedding."
Sixth on the journey of attractions is Ely where visitors are enamored by the Ely Renaissance Society murals celebrating the town's history, but are also physically exhilarated by the down and dirtiness of the Nevada Northern Railway (NNRY). This is the only railway in the nation where people can actually operate a historic steam locomotive. For 2012, consider enrolling you and/or your teen in a one-of-a-kind Railroad Reality Camp that is both extreme physical and mental training. Campers replace ties, shovel coal, lube a hot steam locomotive and operate a diesel locomotive to couple to a caboose. Camp graduates operate a 1,500 horsepower locomotive. Ely is 350 miles east of Reno and 240 miles north of Las Vegas.
Another must see attraction in the Pony Express Territory is the magnificent Great Basin National Park, which is a short distance off Highway 50 east of Ely with several sites listed in the National Registry of Historic Places . Wheeler Peak is the second highest in the state, and the Lehman Caves tours are a rarity.
The Pony Express Territory welcomes the media to its new online pressroom with exclusive high res photography and fresh story ideas. We're available to help you tour, customize your story, and more.
Follow us on Facebook and Twitter @PonyExpressNV
Sign up for the complimentary Pony Express enewsletter
Nevada's Pony Express Territory sits on 17 million acres of wide-open space with 150 years of rich history, rugged undisturbed nature and black night skies. The Territory is where the Pony Express riders once galloped along its main trail, now Highway 50, connecting the six adventurous towns of Dayton, Fallon, Fernley, Austin, Eureka and Ely. 1,840 miles of wilderness was crossed in the Nevada "Pony Express Territory". Twenty years ago Life Magazine designated this section of Nevada State Highway 50 – "America's Loneliest Road."
###