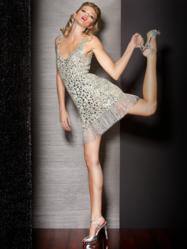 The latest in a long line of celebrities dazzles the cameras with a Jovani short dress, solidifying the brand as a must-have for every fashion-conscious woman's holiday wish list
Los Angeles, CA (PRWEB) December 14, 2011
Jovani designer dresses are taking the world by storm, so it's no surprise their diverse collection is also finding its way into the wardrobes of Hollywood's glitterati. The latest A-list celebrity to show off a sleek short dress for the cameras is reality TV star Kim Kardashian. Glamour Magazine's January 2012 New Year's Issue features Kim in a black mesh short dress decorated with exquisite oversized palettes. Kim turned plenty of heads in her mini black dress when she joined her sisters Khloe Kardashian and Kourtney Kardashian for a holiday season photo-shoot.
Kim Kardashian isn't the first young and hip celeb to don one of the breathtaking short dresses designed by the creative minds at Jovani. The list of celebrities wearing Jovani dresses goes on and on. From Carrie Underwood to Taylor Swift, the next generation of Hollywood royalty is choosing to make its mark on the fashion world with designer dresses that seamlessly blend classic appeal with a modern sensibility. Of course, this holiday season there will be many gorgeous young ladies who haven't yet caught the paparazzi's eye but are hoping to be discovered in their striking couture dresses. As they say, you have to look the part before you get the part, and nothing exudes confidence and style like Jovani.
While the designers at Jovani are thrilled to see their unique work draped on the lithe forms of the super-famous, they are also pleased to see that the brand is quickly becoming a household name across the United States and the world. Fashion-conscious women of all ages are reading about Jovani in design editorials. The collection, from breathtaking prom dresses to cocktail dresses and much more, can now be found in over 3,000 stores worldwide. Indeed, ever since Jovani opened its doors in 1980, the company has been riding a tidal wave of positive word-of-mouth.
There are some designer companies that enjoy a meteoric rise and then fade from their "fifteen minutes of fame" because they lack the creativity and determination to sustain their initial success. Jovani, on the other hand, boasts an upward trajectory that shows no signs of abating. This is one fashion company that seems destined to hold the spotlight for years to come.
If you are interested in learning more about the many different styles of designer dresses available please visit online at http://www.Jovani.com.
###