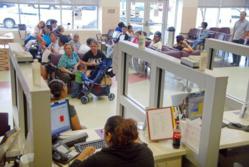 "Let's see what happens with it [health care reform]," says Theodora Bell, 56, a South Sider with diabetes and high blood pressure. "Let's see if them's that needs help really gets it."
Chicago, IL (PRWEB) December 14, 2011
Today, Illinois Health Matters releases its final 2011 Neighborhood Story in its series about health care reform implementation in underserved areas of Chicago. In the article,"Mind the Information Gap: Few Chicagoans Understanding Health Reform," renowned journalist Judith Graham explains the benefits of the law and examines the challenges of getting the word out about health care reform, especially to uninsured, low income people who may stand to benefit the most.
Graham writes: "This gaping chasm between policymakers deciding how to implement health reform, politicians debating the value of this groundbreaking legislation, and residents of some of Chicago's poorest neighborhoods – many of whom appear to have no idea how reform might impact them – highlights a critical challenge for the groundbreaking initiative that's come to be known as Obamacare."
For example, Graham talks to Derek Malone who sat outside Cook County's Fantus Clinic looking tired and discouraged. It had been weeks since the 55-year-old had taken medications for his high blood pressure and intestinal ailments – prescriptions he says he can't afford.
"Malone has no idea that people in his situation – impoverished adults without dependent children – will be offered assistance starting in 2014 under national health reform."
Under the law, Medicaid will be expanded to all adults who earn up to 133 percent of the federal poverty level, potentially providing 500,000 to 800,000 citizens of Illinois with new benefits, including many residents of the south and west sides of the city. Those who do not meet Medicaid requirements, but are between 133 and 400 percent of the federal poverty level will receive financial assistance to purchase insurance, in order to comply with the individual mandate.
"Even those that learn about the law aren't fully convinced. Told by Graham that poor adults will benefit from the government's reform plan, some of these Chicago residents expressed surprise and satisfaction, while others voiced mistrust and skepticism. 'It sounds good,' said Theodora Bell, 56, a South Sider with diabetes, high blood pressure and a bad heart who got a Medicaid card a year ago after qualifying for Social Security disability benefits. 'Everybody needs insurance because a lot of times, if you don't have it, doctors don't even want to see you.'"
"But after a moment's reflection, Bell hedged her enthusiasm. 'Let's see what happens with it,' she said, cautiously. 'Let's see if them's that needs help really gets it.'"
Medical care providers are facing their own challenges. Spreading the word to the communities is one major hurdle, one that is complicated with different languages and points of view. Furthermore, there are challenges in providing medical care that need to be addressed. In the article, Graham hears from local medical leaders who express concern about how they will meet the potential demand from the hundreds of thousands newly insured low income patients:
" 'I think there is the potential for a perfect storm' over access to care if health centers aren't able to expand to meet impending needs, said Dr. Lee Francis, president of Erie Family Health Center, which serves over 34,000 needy patients a year at 11 sites in Chicago."
Residents who want to stay tuned about the roll out of the Affordable Care Act in Illinois, should sign up for the IHM newsletter here or follow us on Facebook and Twitter.
This article is a part of the Neighborhood Stories series, a project of the Local Reporting Initiative, supported by the Chicago Community Trust. The rest of the stories can be found on this section of the website, which includes videos and articles about health care reform for individuals, families, small businesses, policymakers and community organizations on the south and west sides of Chicago. The Illinois Health Matters website also features news, events, resources, Q&A's and a blog dedicated to providing factual information on health care reform in Illinois.
About Illinois Health Matters
Illinois Health Matters is a one-stop resource for information on national health care reform in Illinois, and provides clear, expert information about the Patient Protection and Affordable Care Act, as well as commentaries, resources and a blog for individuals, small businesses, community organizations, media and policymakers. Funding for Illinois Health Matters is generously provided by lead donor, The Chicago Community Trust and managed by Health & Disability Advocates in partnership with a collaborative of Illinois health policy and community-based organizations: AARP of Illinois, AgeOptions, AIDS Foundation of Chicago, Campaign for Better Health Care, Health & Medicine Policy Research Group, Illinois Maternal & Child Health Coalition, Illinois PIRG Education Fund, and the Sargent Shriver National Center on Poverty Law.
Web: http://www.illinoishealthmatters.org
Twitter: @ILHealthMatters
About Health & Disability Advocates
Health & Disability Advocates (HDA) is a national nonprofit that employs public-private partnerships to improve access to jobs, education and healthcare in Illinois and throughout the U.S. Our family of initiatives include: Chicago Medical-Legal Partnership for Children, National Consortium of Health Systems Development, Illinois Connections Military Family Project, SSI Homeless Outreach Project, Make Medicare Work Coalition, ThinkBeyondtheLabel.com and IllinoisHealthMatters.org.
Web: http://www.hdadvocates.org
Twitter: @hdadvocates
###