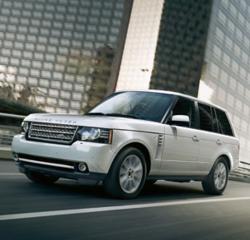 This milestone is a tribute to our hard-working employees, past and present, as well as our many loyal customers.
Paramus, New Jersey (PRWEB) December 15, 2011
Prestige Land Rover of Paramus celebrates 25 years of serving New Jersey, New York and the Northeastern United States. Since its inception in 1986, the Land Rover and Range Rover dealership has sold over 25,000 new and pre-owned vehicles, while establishing its reputation as one of North America's premier Land Rover dealerships.
General Manager Martin Hall credits a strong commitment to customer service for the company's lasting success. "We feel it's an outstanding achievement to serve so many customers and thrive as Prestige Land Rover has for the past 25 years," said Hall. "This milestone is a tribute to our hard-working employees, past and present, as well as our many loyal customers who have helped make this sustained growth possible."
Hall also credits the enduring distinction of the Land Rover brand with contributing to the dealership's longevity. "Land Rover's world-class SUVs have helped its dealers push to the forefront of the U.S. auto market. We must acknowledge the engineers and workers who design and build quality products that keep Land Rover and Range Rover enthusiasts coming back for more," Hall said.
"Such prevalence also requires forward thinking and ingenuity," continued Hall, "which Land Rover has clearly demonstrated with the new 2012 Range Rover Evoque. This new crossover SUV, recently named Motor Trend's 2012 'SUV of the Year,' has received high praise for its unique combination of style, luxury, economy and performance. The Range Rover Evoque is the lightest, most efficient Range Rover ever built, yet it maintains the versatility and off-road capability that first put Land Rover on the automotive map."
The remaining members of the family of Land Rover vehicles include the Land Rover LR4 and Land Rover LR2, as well as the Range Rover and Range Rover Sport. All offer impressive performance and refinement, both on and off the road. Customers interested in a Land Rover purchase or a Range Rover lease should contact General Sales Manager Greg Fioretti on his direct line, (201)-987-8900, to schedule a sales appointment and a test drive.
About Prestige Land Rover of Paramus
Established in 1986, Prestige Land Rover of Paramus is one of the largest volume Land Rover dealerships in the world. Thousands of consumers have become proud Land Rover and Range Rover owners and lessees, thanks to Prestige's knowledgeable sales staff, experienced financing department, and expert service technicians. Prestige Land Rover is a member of the Prestige Auto Group, which is the 20th largest dealership group in the United States.
# # #