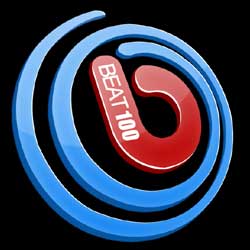 Beat100 is now pushing boundaries with its global database of talent, now there's no reason for anyone to go unnoticed, its just a case of letting the people know about Beat100." - James Higgs
(PRWEB) December 15, 2011
Beat100 invites all to partake in internet revolution which is branching out worldwide in these rapidly evolving times.
Beat100 is urging companies & business to jump on board & help spread the word about the sheer quantity & quality of talent from all over the world that is currently being uploaded onto Beat100.com. Still in its very early stages compared to other social networks, Beat100 has already managed to attract uploads from all over the globe including acoustic sessions from Rio De Janeiro, reggae beats & break dancing in Delhi, India to high octane free-running in the East of England.
Beat100 aims to work alongside other networks and businesses in order to support the mission & maximize the amount of coverage that artists & talented users can get from just uploading videos.
"The Internet is a powerful tool & we have only really scratched the surface with it. Beat100 is now pushing boundaries with its global database of talent, now there's no reason for anyone to go unnoticed, its just a case of letting the people know about Beat100." - James Higgs, Beat100.com
It's not just companies that can aid Beat100 in spreading the word, anyone can in this day & age where virtually everyone owns a blog site or a social networking page. By adding one of Beat100's stylish banners to a page, individuals are spreading the word alternatively banners can also be used to create a link straight to a members upload in order to gain more votes.
With viral videos quickly becoming a mainstay in modern day advertising companies are spending massive amounts just to be the brand that everyone is talking about. Beat100 recognizes this & welcomes any businesses that are interested in working alongside the video/social networking website.
'Us & Her' are already whipping up a storm on the internet with upload of Jessie J cover 'Nobody's Perfect', such a powerful performance from singer Casey Kaye who is just 12 years old, Beat100 may well have uncovered Great Britain's answer to Justin Bieber. A great accolade to have to go along with any brand working alongside Beat100.
Chris Kneller of Benfleet, Essex perfectly sums up how powerful the viral video can be with upload 'How to FREEZE A BEER in 10 seconds'. The upload sees a well known lager brand being frozen solid in literally seconds after a quick bit of wizardry from Mr. Kneller, its got everyone baffled amongst the Beat100 social network with users sharing it all over the internet to find out why, still nobody's quite sure how?!
Advertising whilst showing support for individuals, helping others achieve what only could have been described as a distant dream has surely got to be the most rewarding way to go about business of any sort. By adding a banner to any page, individuals, networks & businesses are showing support for the future of internet based talent searching & socializing. The internet world will also see these companies & people leading the way along with Beat100 in search of a better brighter future for the talents yet to be discovered through the format that is media.
To add a banner or button to any desired web page or blog, visit the link on beat100.com & simply copy & paste the HTML code where ever seems fitting. The more places a Beat100 banner is seen, the better chance someone may have of being launched into the limelight.
# # #