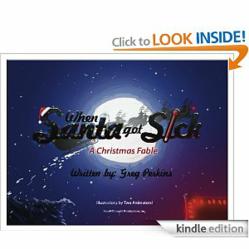 When you're sharing the top of the list with annually favors like Charles Dickens' 'A Christmas Carol', that's pretty amazing!
North Pole (PRWEB) December 14, 2011
Food4thought Books, an imprint of Food4thought Productions, announces that the Kindle/Amazon version of their Christmas fable, "When Santa Got Sick" has been the #1 best seller for the past two weeks in the 'children's religious' category on Amazon.com.
"We were thrilled with earning the top slot and, the book's also broken into the broader categories of 'Holidays & Festivals' and 'Christmas' reaching as high as #35 and #46 respectively", says author and publisher, Greg Perkins. He went on to say, "When you're sharing the top of the list with annually favors like Charles Dicken's 'A Christmas Carol', that's pretty amazing!"
Originally launched in 2010 as an interactive book for the iPad, it quickly won a Five Star user rating and critical acclaim. But it wasn't until the fall of 2011 that Perkins thought to put it into the Kindle and Nook stores as a straight e-book.
"We knew it was a story that would capture the hearts and minds of those who love Christmas. So making it available in more formats only made sense." Critics have loved the book in all its versions, including Jennifer O'Connell from the Examiner.com…"The telling is weaved with liveliness and humor, and timing compact enough to hold the interest of the smallest child, but expansive enough to capture the heartstrings of adults."
User reviewers for the e-book on Amazon have given it a unanimous 5 star rating, here are two:
"A phenomenal children's Christmas story !" I have just read what is destined to become this generation's best and all-time favorite children's Christmas story!"

December 5, 2011 By W. Welstead
"Destined to be a classic, I'm not religious. I'm spiritual. And I abhor the commercialism and capitalism surrounding Christmas. Mr. Perkins puts a wonderful spin on the true meaning of Christmas and why it's celebrated."

November 29, 2011, User tapper_an_earthling
When Santa Got Sick" sells for $5.99 on Amazon/Kindle and Barnes & Noble/Nook, and $3.99 as an interactive book app in the iTunes store.
A portion of every sale will go to 412kids.org , a charity that provides access to clean water to children in Haiti that would die without it. It's a matching grant so every dollar donated means that $2 goes to these wells. Clean water - the gift that keeps giving all year long.
The groundbreaking iPad version of "When Santa Got Sick" is narrated by Kathy Grable, a renowned voice-over actress who's performed in hundreds of ads from Busch Gardens to the Baskin-Robbins Talking Spoon. She's also heard in animated TV shows like Rocket Power and Futurama, as well as the voice double for Nicole Kidman in the blockbuster film, Batman Forever. Joel McCrary voices the role of Santa Claus, an actor best known for his on-camera performances as the Prime Minister in The Princess Diaries movies and Disney XD's Kickin' It. McCrary's voice can also be heard in Charlotte's Web, Over the Hedge and the role of Baloo in Disney's Jungle Book.
About Food4thought Productions
A new media company based in Los Angeles that produces and develops mobile games and iDat books. Founded by Greg Perkins whose credits include the popular Saturday morning CBS show, Horseland, and the PBS puppet show, Gerbert. A veteran Hollywood Writer/Producer, his most recent post was with Disney Interactive Media Group where he served as the lead writer for Pirates Online and several other online video games. Perkins is an award-winning writer known for heartfelt pieces that appeal to kids and parents alike.
# # #