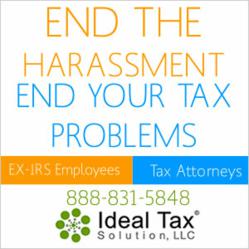 A clean slate, to move forward and properly file taxes in the future.
Costa Mesa, CA (PRWEB) December 13, 2011
Many Americans may not be aware of this, but when a tax return is unfiled, the IRS files tax returns on behalf of the tax payer. People can acquire enormous tax debts this way without having any idea why. The IRS, when filing a substitute for return, puts the tax payer in the highest tax bracket and gives them zero deductions. This inevitably causes an amount to be owed for that year. When many unfiled years come into play it tends to get very ugly. Most people victim of this tend to be unaware of where the debt came from. Luckily, programs such as Offer in Compromise, Penalty Abatement and Installment Agreements usually need not apply to this scenario.
Tax professionals now have the ability to amend these tax returns. They basically re-file the return with the accurate information applying to the tax payer. So, an appropriate tax bracket is applied as well as any deductions the person needs to claim. This can turn large tax debts into being nonexistent and even require refunds in the end in some cases. Not only does it settle this debt but it also puts the tax payer in compliance with all returns leaving them safe from wage garnishments, bank levies and liens. A clean slate, to move forward and properly file taxes in the future.
About the company: Ideal Tax Solution, LLC is located in Costa Mesa, CA and provides tax negotiation services, preparation and is a collection defense specialist. Their Tax Attorneys, IRS Enrolled Agents, CPA's, Senior Tax Consultants have over 55 years of combined experience working to help American tax payers with the IRS and State Tax Agencies. Ideal Tax boasts an "A" rating with the Better Business Bureau earned through providing excellent services.
###