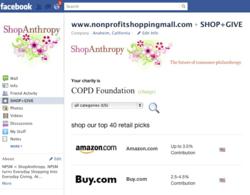 Figuring that 3% of the purchase price is the average earmarked donation, the sky is the limit for non-profits that harness cause shopping as a fundraising tool.
Anaheim, CA (PRWEB) December 14, 2011
nonprofitshoppingmall.com introduces a new tool for online cause shopping, the Facebook Shop-and-Give Tab. Installed on the left hand side bar, the Facebook fans and friends of participating non-profit organizations can thus easily click through to the private label online malls.
Hundreds of retailers in the U.S, Canada, EU Countries and Great Britain are featured on nonprofitshoppingmall.com.
President Corine Couwenberg: "We are excited to be able to provide this new tool. It enables our non-profit partners to reach all their social media friends without incurring the cost of traditional printed campaigns. Furthermore it opens the way to online shopping from iPads, tablets and smart phones. We are confident that the new easy access will make cause shopping even more accessible. Some organizations have hundreds of thousands of fans and friends on Facebook. Estimating that Americans will spend nearly 30 billion dollars online this season, and earmark an average of 3% this could result in millions in raised funds."
Surfrider Foundation, RAINN and Ovarian Cancer National Alliance already implemented the new tool successfully.
Interested non-profit organizations are invited to email info(at)nonprofitshoppingmall(dot)com.
###