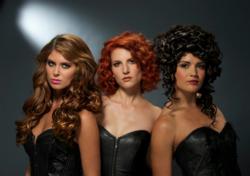 Los Angeles, CA (PRWEB) December 13, 2011
It's true that the holiday season is a time of year that allows for an extra bit of sparkle and festive flair for any beauty enthusiast. However, it is also a time of year that is especially difficult for those individuals, particularly children, who not only go without celebrations and presents, but who also lack necessary every day items. ENZO Milano, a premier designer of professional hair styling tools, is proud to announce a new holiday promotion that is designed to give back to children in need.
Widely known as an edgy beauty product brand, ENZO Milano is attributed with creating a new category in the beauty industry with its development of the clipless curling iron. The organization, through the direction of Renzo Composto, Founder and Chief Creative Officer, has reconfigured traditional styling tools, and interjected a new level of creativity and improved education into the professional beauty appliance industry. Their products have helped professional stylists and everyday women achieve looks that are truly one-of-a-kind and red carpet worthy.
However, in the midst of this success, the team at ENZO Milano knows how important it is to give back. The company is currently offering a never-before-seen discount on the clipless curling iron. Furthermore, five percent of sales of the clipless curling iron will be donated to the Palm Beach-based non-profit, SHUZZ Charity Fund, to assist in their efforts over this holiday season.
Composto stated, "ENZO Milano celebrates this holiday by offering special thanks to all of our loyal fans and giving back to children in need. The entire staff at ENZO Milano are proud supporters of SHUZZ and the charity's very commendable efforts."
ENZO Milano has partnered with SHUZZ in its efforts to provide new shoes to children across America and in developing countries around the world. SHUZZ is dedicated to delivering 100 percent of all public donations to the programs supported by the charity, such as Back-2-School, Youth Athletics, International Relief, Disaster Relief and Medical Procedure Sponsorships. The mission of the organization is to help ten million poverty-stricken children over the course of the next ten years.
ENZO Milano's products have been recommended by Hollywood stylists and have received the Grand Prix Award for the Most Innovative Iron. Through their expert team of stylists, ENZO Milano's clipless curling iron has created red carpet looks for celebrities such as Beyoncé Knowles, Halle Berry, Katy Perry and Jennifer Lopez. The holiday discount on clipless curling irons is running for a limited time only. For more information visit http://www.buyENZOMilano.com or contact an authorized ENZO dealer. Information on the SHUZZ Charity Fund can be found online at http://www.Shuzz.org.
ABOUT:
ENZO Milano is a premier leader in professional beauty styling tools, including the revolutionary clipless curling iron. A manufacturer of ergonomically designed products with heat-resistant handles and 360-degree swivel bases that prevent cord tangling, the company has been at the forefront of the beauty industry as it has released improvements to traditional styling tools and introduced new education for professional stylists and at-home beauty enthusiasts. ENZO Milano's products are sold at http://www.buyENZOMilano.com or through a host of authorized dealers including GBS Beauty Store, Planet Beauty and ULTA. ENZO Milano was founded by Renzo Composto, Chief Creative Officer.
For more information about ENZO Milano, visit http://www.buyENZOMilano.com.
###