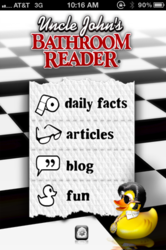 People love to reference and quote the stories and facts that they read in our books. Now with our eBooks and mobile app we are truly portable and our fans have the option to take us with them whenever, and wherever, they go.
San Diego, CA (PRWEB) December 14, 2011
For 25 years, millions of loyal fans have enjoyed copies of Uncle John's Bathroom Readers from the comfort of their thrones. Now, Portable Press offers favorite articles, strange facts, weird news, funny quotes and clever wordplay, digitally, with the release of nine eBook titles and the Bathroom Reader app for mobile devices.
"Our fan base has gone mobile, and so have we," says Gordon Javna, Editor-in-Chief and Publisher of Portable Press. "Uncle John's Bathroom Reader is one of the most read book series on the market. Uncle John's Bathroom Reader."
Nine eBooks Available Now:
With 9 classic titles now available, reading books from Portable Press is more convenient than ever. With article lengths ranging from pit stops to long-hauls, these books are the perfect addition to any eBook library.

Uncle John's Endlessly Engrossing Bathroom Reader (eISBN: 9781607104599)
Uncle John's Unsinkable Bathroom Reader (eISBN: 9781607104605)
Uncle John's Ahh-Inspiring Bathroom Reader (eISBN: 9781607104629)
Uncle John's Supremely Satisfying Bathroom Reader (eISBN: 9781607104612)
Uncle John's Bathroom Reader Wonderful World of Odd (eISBN: 9781607104643)
Uncle John's Presents the Book of the Dumb (eISBN: 9781607104681)
Uncle John's Bathroom Reader Golden Plunger Awards (eISBN: 9781607104650)
Uncle John's Bathroom Reader Plunges Into Texas (eISBN: 9781607104674)
Uncle John's Bathroom Reader Tees Off on Golf (eISBN: 9781607104667)
Uncle John eBooks are currently available on Amazon.com and iTunes, and will be coming soon to Barnes and Noble, Blio and other eBook retailers.
The Bathroom Reader App Now Available for Android and Apple Devices:
Available for Apple and Android devices, this app gives readers a daily dose of the best of what Uncle John has to offer. The folks at the Bathroom Readers' Institute are digging deep into the vault of bizarre and amazing stories; From tales about dumb crooks, to popular myths from history debunked, the user never knows what may pop up next.
With one click, fans can share favorite Uncle John's facts via email, Twitter, and Facebook. Push notifications provide daily facts or the weekly article sent directly to users' home screens, and when a bit of bathroom humor is needed, a squeeze of the little yellow ducky will give an impromptu fart sound. The Bathroom Reader app also provides a direct link with Uncle John's blog, letting fans be instantly connected with the latest weird news stories from around the world. Users will be the first to hear about new releases, sales, contests, giveaways, and whatever other weird stuff Uncle John comes up with.
The Bathroom Reader app is available now and can be purchased on iTunes, The Android Market and Amazon.com for $1.99.
About Portable Press
Portable Press is an imprint of Baker & Taylor Publishing Group, a division of Baker & Taylor, known as a world-leader in digital and traditional media distribution. For more than 20 years, Portable Press and The Bathroom Readers' Institute (http://www.bathroomreader.com) have squeezed out the competition with the Uncle John's Bathroom Reader series to become the longest-running, most successful and bestselling bathroom reader book series in the country. With more than 10 million copies in print, you can trust Uncle John to bring you the best in pop culture, forgotten history, strange lawsuits, the origins of everyday things, weird news, and more.
Media Contacts:
Baker & Taylor Publishing Group/Thunder Bay
Press Beth Avant 858.450.3602
Beth.avant(at)baker-taylor(dot)com
###