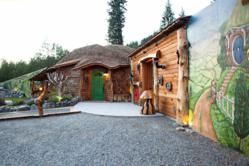 Once discovered, always visited... by car, by plane,by fairy!
Trout Creek, Montana (PRWEB) December 14, 2011
USA Today recently reported that over 20,000 people have traveled to New Zealand to view Hobbit dwellings built for the filming of Peter Jackson's upcoming Hobbit movies (set for release in 2012 and 2013).
But here in Montana, Steve Michaels wonder why they're bothering to travel so far.
"We've got a Hobbit House right here in the U.S.," said Michaels, referring to the "Enchanted Hobbit Abode" he created a few years ago in Trout Creek. "My mother-in-law actually coined the term "Hobbit-forming" for our website long before the USA Today article came out, so we were amused and a little flattered to see them use it."
Michaels' Hobbit House was recently featured on HGTV's "Home Strange Home." It includes a real 700 year old cedar tree converted into a troll house, along with secluded abodes for Hobbits, Trolls, Fairies, Elves and Sprites.
Bilbo and Frodo's homes are nestled in a hillside, and are currently decorated for the Christmas season, as are the small fairy houses dotting the "shire" with twinkling lights.
"Our Hobbit House has always been popular, but we're seeing a surge in interest with the movies coming next year," said Michaels. "People are also figuring out that Montana is a lot easier to get to than New Zealand, so we've become an alternative destination for Hobbit fans who don't want to spend all that time and money."
The Hobbit House is actually a rental "Enchanted Getaway" that accommodates a single family, explains Michaels, and has hosted a steady stream of visitors seeking a unique vacation experience. "You'd be amazed how many Lord of the Rings fans are out there who want to live the experience," said Michaels. "And we actually make it luxurious."
Michaels' wife Christine gets in on the fun, presenting guests with her "Troll House Cookies" upon their arrival at the enchanted lodgings, and helping tour guests around the 20-acre "shire."
The Hobbit House can be viewed at HobbitHouseofMontana.com. Reduced winter rates are in effect, and reservations can be made by calling (406) 827-7200, or emailing Host(at)HobbitHouseofMontana(dot)com]
###