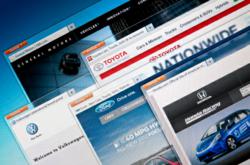 Based on what I saw in LA, Ford's new Escape will certainly make it a challenge for the CR-V to regain, let alone retain, its former position of supremacy in this hyper-competitive segment
Atlanta, GA (PRWEB) December 14, 2011
After the recent LA Auto Show held at the Los Angeles Convention Center, NADA had an opportunity to compare the new Honda CR-V with the new Ford Escape, and found that in light of all of Japan's recent woes, the CR-V will have a hard time regaining footing in the compact utility segment. Ford's sustaining reputation for reliability and durability has served it well over the years, keeping the brand and its many models in the upper echelon of automobile manufacturers for generations. Sandy Springs Ford in Atlanta, Ga is proud to be a member of the Ford team, and as such wants all automobile consumers interested in purchasing a new Ford Atlanta or a new Ford Fusion in Atlanta to know that they can be purchased with confidence at this fine Ford dealership.
NADA Guides writer Jonathan Banks was in attendance at the LA Auto Show covering the event. He subsequently wrote a piece for NADA noting that just five years ago compact utilities had a 9% share of all new vehicles sold, and that at the close of business this year the segment will end up with a share north of 13%. He felt this four point gain would most likely have been higher had it not been for disaster-related production disruptions experienced for a major chunk of the year.
Why the growth in sales, he asked? A lower price point relative to larger utilities, cargo versatility, fuel efficiency, and car-like driving dynamics. He felt the appeal of the segment is pretty obvious as you run down the list of benefits.
He went on to write, "Up until this year, Honda's CR-V had been the longtime segment sales champ, consistently enjoying sales around 200k units per year. This kind of volume makes the CR-V the third highest selling Honda model, behind the Accord and Civic. March's earthquake off the coast of Japan stymied CR-V production and sales, and as a result, the seemingly long-in-the-tooth Ford Escape will supplant the CR-V as the segment's 2011 sales champ. Similar to Honda, the Escape is a major contributor to Ford's overall sales tally as it consistently ranks in the top five of all Ford vehicles sold. Numbers like these mean that both OEMs have quite a bit riding on the success of the new iterations introduced in LA, and after close scrutiny I don't think that there is much of a downside risk for either nameplate."
At Sandy Springs Ford, the new and used Ford models in stock are seeing a swift turnaround as consumer confidence is up and the end-of-year sales have begun. New car sales have seen an upturn not witnessed since 2009, reinforcing the welcome sign that the economy is beginning to move forward. And as the economy begins to look up and automobile consumers are once again in a position to make that big-ticket purchase, Sandy Springs Ford wants to be there to offer high quality new and used vehicles to the car buying public.
Banks can further be quoted as saying, "I think that Ford's progressive approach to the Escape's redesign gives it more upside potential than the CR-V. Don't get me wrong, the new CR-V looks to be an excellent compact utility, and compared to the 2012 Civic, Honda's redesign of the CR-V could almost be called bold (in fact that's what Honda is calling it). In truth though, the new CR-V's design is in line with Honda's conservative philosophy of evolutionary evolvement rather than revolutionary re-birth. While clearly successful in the past, it remains to be seen how this approach will play out among consumers with an increasing appetite for reliable design forward products. Based on what I saw in LA, Ford's new Escape will certainly make it a challenge for the CR-V to regain, let alone retain, its former position of supremacy in this hyper-competitive segment."
First in Results SEO Marketing
###