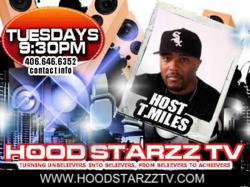 Where Stars are being born
Atlanta,Georgia (PRWEB) December 19, 2011
Atlanta is now making room for a new film production company, Hoodstarzz Films. Founder and Producer Schlonda McCarthan and Director Terry Miles are planning big things for the company.
Hoodstarzz Films was planned a little over four years ago. Now taking off in 2011, the company has more than what they started with and the people they need to finish with. Hoodstarzz Films are ready to make an impact in the film industry. During the company's interest meeting on this past Monday, more people than expected came out to get involved.
Director Terry Miles began his introduction by saying, "I am here to help you all get where you want to be. I just ask that you stick with me through it all." The meeting was held for anyone of any talents such as video production, acting, modeling, singing, dancing, and even just volunteering to become apart of Hoodstarzz Films. Hoodstarzz Films wants the best of the best in Atlanta to help them make their mark in the film industry.
Although the company is new in the game, with the experienced staff they have already started with new productions such as their live web show on Hoodstarzz TV.
"On the Corner with TMiles," is a internet show that showcase some of the hottest talent from the hood such as hip hop artists, models, business owners, and more," explains Producer Schlonda McCarthan.
"We want to be accepted in this industry because there are people out there that are from where im from and get over-looked and we want to give those people something that they can relate to. Personal Assistant Chelsia Evans says She has been with the company for less than a year now and has already seen drastic, successful events taking place within the company. "We are really making things happen here in Atlanta and I'm glad to be apart of it," exclaims Chelsia.
Hoodstarzz TV can be viewed every Tuesday night at 9:30 p.m. Just go on the website http://www.hoodstarzztv.com and click on the tab labeled "live" and you can tune in right then and there. You are also able to comment or even ask a question to the guest of the show. Just tune in and place your comment and/or question in the comment box and Mr. Terry Miles himself will relay your question or comment to the guest.
This past Tuesday, HoodstarzzTV had guests Lil G from the music group Silk and up and coming rap artist Da Kid. "Both are well respected in the music industry. One being an up and coming sensation and the other a legend," says Host Terry Miles. "Productions such as our live web show will sure to bring the rise of HoodstarzzTV to the Atlanta media world," states Schlonda.
In the future, Hoodstarzz Films will be producing a movie. The title is unknown yet, but filming will take place soon. "We plan on shooting right after Christmas, before the New Year comes around," says Director Terry Miles. "This project would be our biggest so far and we plan to make many more after," exclaims Producer Schlonda.
# # #