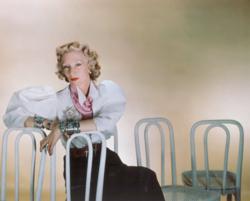 I came here to get away from a whole lot of stuff that could have turned me into a person that I wouldn't have been comfortable with as I got older.
-Ali McGraw, actress and Northern New Mexico resident
Taos, NM (PRWEB) December 14, 2011
On March 22, 2012 actress, activist and Northern New Mexico resident Marsha Mason and other notables will launch the yearlong Remarkable Women of Taos and Northern New Mexico program at the Harwood Museum. Remarkable Women focuses on exploring, celebrating and experiencing the exceptional and adventurous women who have been drawn to the freedom and beauty of Taos and Northern New Mexico for decades, particularly artists. The commencement is the 100th birthday of well-known remarkable woman of Taos, Agnes Martin—the internationally celebrated mid-century abstract expressionist—and the Harwood Museum will showcase an exhibition of her little-known early works. Beginning in January 2012, events such as behind-the-scenes art tours and exhibitions featuring the remarkable women begin—all part of the community-wide celebration of the transformative Taos mystique. 2012 also marks the Centennial of New Mexico's Statehood, with the March 22nd kick off an official New Mexico State Centennial Committee event.
Creative women–visual, literary, musical—have been continually inspired by Taos and its Northern New Mexico location; a host of special museum and gallery exhibitions affirms this truth. Taos has attracted and inspired many who seek societal, artistic and personal freedom to invent–or reinvent–themselves.
"I came here to get away from a whole lot of stuff that could have turned me into a person that I wouldn't have been comfortable with as I got older," said Ali MacGraw, actor and Northern New Mexico resident. "I think that's true of many, in particular women, in New Mexico. I know many, many, many of them who have almost reinvented themselves, maybe not in the dramatic self-conscious way that Mabel Dodge Luhan did, but we all know that there's a bunch of stuff that has to get shucked."
The impressive list of remarkable women includes Taos Modernist Beatrice Mandelman, arts patron and salon hostess Mabel Dodge Luhan, the drop-dead gorgeous high society model, designer and Standard Oil heiress Millicent Rogers, and renowned San Ildefonso Pueblo potter Maria Martinez. Museums, galleries and institutions with events relating to the 2012 Remarkable Women of Taos & Northern New Mexico include: the University of New Mexico Harwood Museum of Art, the Millicent Rogers Museum, the E.L. Blumenschein House, Hacienda de los Martinez, Mabel Dodge Luhan House, Mesa's Edge, Rane Gallery, the Parks Gallery, Taos Institute of Glass Art (TIGA), the Red Willow Market at Taos Pubelo (a UNESCO living world heritage cultural site and National Historic Landmark) and more.
SPECIAL TRAVEL ITINERARIES/TOURS: Remarkable Women is aimed at enabling travelers to experience the transformative power of Taos through the creativity and adventure of historic women, as well as that of contemporary women. YouTube videos at the Taosmosis Channel will connect to online biographies of Remarkable Women—each providing "favorite places" in Northern New Mexico that travelers can visit today. And, special self-guided as well as paid tour itineraries are online for those wishing to delve deeper into Taos' special heritage, culture, wild beauty, creative community and outdoor adventure–as alive today as it was 100 years ago. Events, exhibitions, profiles and videos are being added weekly, so check back in early 2012 for even more offerings.
MUSEUM EXHIBITIONS HONORING THE REMARKABLE WOMEN OF TAOS For a full listing and description of each exhibition, visit the website, http:// here.
Harwood Museum
Agnes Martin: Before the Grid
February 25 – June 17, 2012
Beatrice Mandelman: Centennial
July 7 – October 14, 2012
Millicent Rogers Museum
Millicent Rogers: The Power to Create, Collect, and Inspire
All of 2012
Gallery 1
Maria Martinez: Matriarch of San Ildefonso
January through December, 2012
Galleries 3 & 4
Millicent Rogers & Her Circle
May 12th – September 2, 2012
Gallery 10
Unknown Was A Woman
April – December, 2012
Throughout Galleries
E.L. Blumenschein House
Out of the Background – The Women Artists of Early Taos
February 10 – May 18, 2012
Barbara Sayre Harmon – Magic and Mystery
September 23 – February 3, 2013
Hacienda de los Martinez
Cultural Threads – Nellie Dunton and the Colcha Revival in New Mexico
June 15 – January 6, 2013
Mabel Dodge Luhan House
Meetings With Remarkable Women
June 1 – 3, 2012
Taos Institute of Glass Arts
The Remarkable Women of Glass Exhibition
Sept 15-October 7, 2012
TOURS (Full tour itineraries are available http:// here):
Tours include four seasonal Remarkable Women sample, self guided tours, a 6-day/5-night sample, self-guided Remarkable Women tour of Northern New Mexico, a paid, custom tour that is available in 2012 from Seven Directions Custom Tours focused on Remarkable Women and the creative culture in Northern New Mexico.
For a full listing of events, including over a dozen art exhibitions/events and guided and self-guided tours, visit the website, http://www.taos.org/women.
# # #