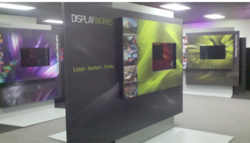 Sunnyvale, CA. (PRWEB) December 15, 2011
DisplayWorks LLC, a leader in design, fabrication and management of trade show exhibits, events and environments, announced plans to open a 3,000 sq. foot Interactive Digital Media Center in Sunnyvale, CA on December 15, 2011. An Open House will be held to commemorate this grand opening and give local business representatives an opportunity to learn about digital media trends, and how to utilize technology to increase their success at trade shows and events around the world.
According to a Marketing Technology Survey conducted by Exhibitor Magazine and Alliance Tech, 98% of the companies surveyed believe that exhibit and event technology is a powerful tool that has moderate (42%) to limitless (56%) potential in the face-to-face marketing arena.
Herb Hite, DisplayWorks CEO, stated, "One of the hottest trends in marketing today is the use of digital media in trade show exhibits and events. Interactive technology is a great way to engage and educate customers and it is a valuable tool for and measuring the effectiveness of marketing objectives. Our new Digital Media Center in Sunnyvale gives us chance to invite customers in and help them explore a range of applications and technologies that can help improve their trade show and event programs."
The DisplayWorks office in Sunnyvale is located at:
845 Stewart Drive, Suite B, Sunnyvale, CA. 94085
For further information on DisplayWorks' new Interactive Media Center or to attend the upcoming Open House, please contact: Amy Murphy at 408.746.9654 or via e-mail at: amurphy(at)displayworks(dot)com.
You can also register for this event online at: http://www.displayworks.com/openhouse.
About DisplayWorks
DisplayWorks is an award winning exhibit company specializing in world-class design and customer service. With over 31 years of experience, DisplayWorks has earned the trust of high-profile clientele across wide range of industries. From national or global exhibit programs to events and environments, DisplayWorks provides creative expertise and delivers solutions that get results. For further information, please visit http://www.displayworks.com.
# # #