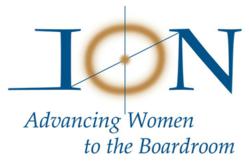 Although these stagnant numbers are disappointing, they increase our determination to transform the landscape.
Boca Raton, FL (PRWEB) December 14, 2011
The InterOrganization Network (ION) published today its Eighth Annual Status Report on women directors and executive officers of public companies in 14 regions of the United States. "Gender Imbalance in the Boardroom: Opportunities to Change Course" provides a breadth and depth of regional research data not available anywhere else.
ION's data include Fortune 500 companies in 14 geographic areas, as well as hundreds of small and mid-cap businesses that comprise the backbone of U.S. regional economies. It supplements the research of organizations such as Catalyst that focus exclusively on Fortune 500 companies, and also uses as additional benchmarks S&P 1500 and Russell 3000 statistics provided by Governance Metrics International. The Catalyst 2011 Census Report on women's representation in Fortune 500 companies was also released today.
Highlights of the ION Eighth Annual Status Report include:

The New York metropolitan area reported the highest overall percentage of women directors in its total research pool of 100 companies – 17.7%. Among the Fortune 500 companies in the 14 regions, Massachusetts reported the highest percentage of women directors – 20.6%.
Maryland and Wisconsin reported the greatest change in gender composition on corporate boards from 2010 to 2011. In both states, the percentages of women directors among all companies increased by 2%.
All but three regions (Kansas, Missouri and the New York metropolitan area) reported a decrease in the number of all-male boards over the past year.
Florida reported the largest increase, at 5%, in the percentage of women executive officers compared to 2010.
ION's report also addresses the issue of board turnover and the extent to which public companies have continued to miss significant opportunities to increase the gender diversity of their boards. In particular, the ION data show that:
A total of 542 new independent directors were elected to corporate boards in 12 ION regions during the past year. In three of those regions (Maryland, Michigan and the New York metro area) newly elected directors constitute more than 10% of all current independent directors.
Only 87 of these 542 new directors (16.1%) are women. On a regional basis, between 70% and 90% of all newly elected independent directors are men.
"From the data published in our report, we can only conclude that the efforts of those who embrace improved governance and recognize the positive relationship between leadership diversity and company performance have failed so far to dislodge the practices responsible for the current gender imbalance. Although these stagnant numbers are disappointing, they increase our determination to transform the landscape," said ION President Charlotte Laurent-Ottomane.
ION is releasing its 2011 Annual Report in conjunction with Catalyst's report as a demonstration of ION's commitment to actively engage with other organizations and individuals who share ION's mission of increasing gender diversity in the boardroom. This strategy gained a number of adherents last month when ION convened a working session of thought leaders concerned with the lack of progress in adding women to U.S. boardrooms. In the coming year, ION plans to continue to offer an active and innovative forum with its partners for the exchange of ideas and best practices designed to increase the effectiveness of each ION member organization within its own region.
"The outcome of this first-of-its-kind summit meeting was a commitment to create and implement a set of robust and collaborative strategic initiatives designed to bring about significant change in the near future," Laurent-Ottomane said.
About ION
The InterOrganization Network is a national nonprofit organization representing more than 10,000 women dedicated to increasing the number of women on for-profit boards and in executive suites. ION creates a national voice for its 14 regional member organizations to influence, build awareness and expand opportunities and connections. ION's founding partner is KPMG LLP, the audit, tax and advisory firm and U.S. member firm of KPMG International Cooperative ("KPMG International").ION recently published a Diversity Policy urging public companies to take action to achieve a critical mass of women in the boardroom.
Media Contacts
Mar Junge, mar[at]c3PR[dot]com, 408-730-8506, mobile 408-219-0101
Vanessa Bradford, vanessa[at]c3PR[dot]com, 209-505-3690
###