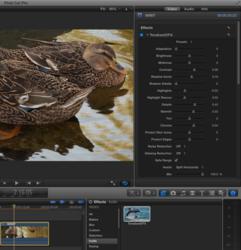 Our vision is to create a new category of video editing products whose solid foundation is built on our advanced photographic software expertise
New York, NY (PRWEB) December 14, 2011
Irudis, an imaging software company whose management team includes creators of award winning software for photographers, announced today a new category of editing software solutions for the video industry, beginning with its Tonalizer|VFX™. Building on photographic software expertise, Tonalizer|VFX™, is the first plug-in that enables advanced photographic-style grading for video and is immediately available for purchase.
Tonalizer|VFX™ is created to meet the demands of videographers and post-production pros. The result is a powerful and intuitive plug-in tailored to correct video footage for inescapable shortcomings due to adverse capture conditions such as poor exposure, lack of contrast, blocked shadows and highlights, improper white balance etc.
"Our vision is to create a new category of video editing products whose solid foundation is built on our advanced photographic software expertise," explains Kenneth T. Laerke, CEO of Irudis. "We consider our primary audience to be post-production pros although we anticipate that our solutions will be of serious interest to photographers embracing video".
Operations in Tonalizer|VFX™ are performed in a scene-adaptive manner by employing sophisticated per-frame, as well as temporal computations that take the dynamics of video footage into account. In addition to offering all the essential tools needed to make advanced tonal corrections, Tonalizer|VFX™ also incorporates noise reduction technology and software-based "anti-aliasing" to mitigate sampling related artifacts. Also, Tonalizer|VFX™ has been exclusively engineered to take advantage of the Graphics Processing Units (GPUs). In most cases Tonalizer|VFX™ will impose a limited overhead on the editing and rendering process.
"We are very excited about the benefits Tonalizer|VFX™ will offer videographers and post-production editors in the video grading process" adds Michael Jonsson, CTO of Irudis. "Tonalizer|VFX™ will improve common weaknesses in video footage with just a couple of powerful corrections and it is the first in a series of innovative video editing solutions we will bring to the market."
Tonalizer|VFX™ is compatible with Apple® Final Cut Pro® X 10.0.1, Final Cut Pro® 7, Final Cut Express® 4.0.1, and Apple® Motion™ 5, Motion™ 4, and is available for download for $179.00.
About Irudis
Irudis has offices located in Copenhagen, Denmark and Manhattan Beach, California, USA and was founded by Michael Jonsson and Kenneth T. Laerke, also co-founders of Pixmantec®, the company that brought RawShooter® to market in 2005. In the coming year, Irudis is planning to launch several digital video software applications. These will initially be plug-ins for leading video editing applications such as Apple® Final Cut and Adobe® Premiere. The software applications are designed for post-production pros, moviemakers and professional videographers.
The tools provided by Irudis for digital video editing are based on patent-pending proprietary technologies.
###