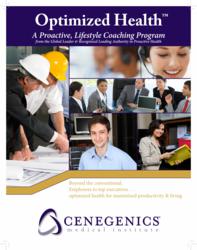 80% of cardiovascular disease, 40% of certain cancers and 91% of diabetes are preventable with diet, exercise and healthier lifestyle choices. Taking Cenegenics' renowned approach to corporations will improve life quality and help boost work productivity.
Las Vegas, NV (PRWEB) December 14, 2011
The leading authority in healthy aging—Cenegenics® Medical Institute—announces the launch of its preventive lifestyle coaching program for corporations called Optimal Health, which incorporates Cenegenics' world-renowned protocols to boost American workers' health, vitality and productivity while reducing their risk for disease. The Optimal Health program surpasses conventional employee healthy lifestyle programs, offering continual interaction with lifestyle coach specialists, 24/7 access resources needed to succeed, health education and the benefits of working with the global leaders in the field.
Poor lifestyle behaviors—unhealthy nutrition, little exercise, smoking, stress—are costing American employers well over $300 billion annually. A single, positive behavioral change can make substantial differences in a corporation's workforce and P&L. It also can go far to create a healthier, stronger and happier work culture.
"Research shows that 80% of cardiovascular disease, 40% of certain cancers and 91% of diabetes are preventable with diet, exercise and healthier lifestyle choices. Bringing Cenegenics' proven approach for optimizing health to American businesses and their team members offers benefits across the board by subsequently lowering healthcare costs, improving work capacity and improving overall quality of life," Cenegenics President/CEO John Adams said.
Cenegenics is partnering with a major healthcare organization to serve corporations, from employees to spouses, dependents and life partners.
According to Adams, the Optimal Health program presents a new level of preventive intervention in the workplace that inspires, motivates, educates and guides employees to take control of their health.
Optimal Health: Basic Components

Lifestyle assessment: confidential online questionnaire
Biometric screening: collected on site, results available online
Expert consultation: series of one-on-one sessions with a trained lifestyle coach
Action plan: strategies outlined for improved health/productivity
24/7 online access: lifestyle tips, educational health resources, medical research
Cenegenics Living On-Line (CLO): employees have ongoing interaction with our expert team, log daily health activities, get alerts when they go off track and tap into a huge support resource, from grocery list planning and recipe/food recommendations to daily diary, personalized fitness logs, sleep tracking and hundreds of exercise demonstrations
To learn more about the Optimal Health program for corporations, please call 877.730.2922.
Visit Cenegenics' Facebook Fan page, follow them on Twitter and get patient celebrity blogs, health tips and news on their portal site, CenegenicsPost.
For more information about Cenegenics, please visit them online, where you can register for quick access to the online Cenegenics Healthy Aging Kit: informative Guide to Healthy Aging, Executive Summary and media excerpts.
To schedule an interview, please contact Ann Castro, Cenegenics Director of Media Relations: 702.953.1588.
About Cenegenics
Cenegenics® Medical Institute, recognized leading authority in age management medicine, has two centers in Las Vegas, Nevada, as well as centers in Charleston, South Carolina; Boca Raton, Florida; Dallas, Texas; Arlington, Texas; Atlanta, Georgia; Chicago, Illinois; Beverly Hills, California; Philadelphia, Pennsylvania; Washington, DC; New York City, NY; Tulsa, OK; Jacksonville, FL; Atlantic City, NJ; Houston,TX; Denver, CO; Scottsdale, AZ; Boston, MA. Additional centers are scheduled to open in other major metropolitan areas in the near future. With an established presence in the medical community, Cenegenics uses a proactive approach based on solid science and comprehensive evaluation. Their established protocols have been recognized as the next generation of medical science, capturing global attention. Cenegenics offers CME-accredited physician training and certification opportunities in age management medicine via the nonprofit Cenegenics Education and Research Foundation (CERF). Headquartered in Las Vegas, Cenegenics serves more than 20,000 patients worldwide—2,000 are physicians and their families.
###