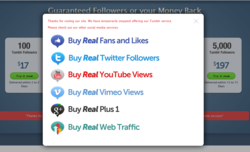 We help make businesses thrive online.
Ottawa, ON (PRWEB) December 15, 2011
Buy Real Marketing, a worldwide provider of Web 2.0 business applications announced today that they are temporarily suspending their Tumblr and Web Traffic services on the following networks: Buy Real Tumblr Followers, Buy Real Web Traffic and Quick Web Traffic. The company, operating since May 2010 has considerably gotten much attention since the time it had began.
"We are temporarily suspending our Tumblr and Web Traffic services in lieu of concentrating our efforts to providing better service for our clients. Although this is a difficult task for us to do, this has to be done. Right now, we want to focus more in developing better solutions that is more valuable and worth our client's money" informs Business Development – Managing Director, Jonathan Kennedy. "At the moment, we think that Tumblr Followers have yet to reach its full potential, and we'd like to provide our clients with more services that are valuable to them. Web Traffic is also one of our concerns we'd also like to focus on in improving in the future" adds Managing Director, JP Bisson.
For the moment, Buy Real Marketing is offering the spotlight to its current variety of services such as Buy Real Fans and Likes, Buy Real YouTube Views, Buy Real Twitter Followers and Buy Real Vimeo Views. The company is dedicating its resources to become the no. 1 provider of dynamic social network services in the industry. "We're confident with our service and the quality that we provide our clients. In no time, we think that our company will continuously be able to grow and help more businesses grow" says JP Bisson.
To know more updates about Buy Real Tumblr Followers and Web Traffic and its services, you may visit their websites at http://www.buyrealtumblrfollowers.com or http://www.buyrealwebtraffic.com.
About
Buy Real Marketing is a wholly owned company owned by Clicking Labs, Inc. that started in May 2010. The company specializes in Web 2.0 Business Applications, Web Traffic, SEO Tools and Social Media Marketing. Each product specifically addresses a need within the web marketing arena. The scope of their marketing services includes the following networks: Facebook, YouTube, Twitter, Vimeo, Tumblr, Google Plus and SEO for web properties.
###