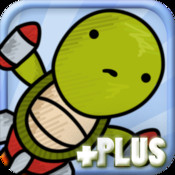 Baltimore, MD (PRWEB) December 14, 2011
J2sighte today is pleased to announce Turtle Fly 2 v5.2, now available free for iOS, their vertical scroller arcade game that has achieved more than two million downloads. Players control the thrust and direction of a flying turtle wearing cola-powered jet boosters. After each flight, players collect money and achievements, which can be used to procure equipment and skills to improve their future missions. Turtle Fly 2 was the #1 overall app in the U.S. App store from June 23 - 28, 2011. The immense popularity of the game is attributed to the many methods players can use to level up, and the exciting, vertical scrolling gameplay.
Played in portrait orientation, the game has two stages, "Fly to the Moon" and "Save Dr. Winston," with a total of 15 levels. Players can keep track of the amount of the turtle's life remaining, main engine fuel remaining, and booster fuel remaining. The main engine is controlled by the engine button in the lower right of the screen, and orange exhaust is visible directly beneath the turtle. Strap-on boosters are located on the left and right and drop off following burnout. When all power is used up, the player falls back to Earth and prepares for their next flight.
During the turtle's ascent he can collect diamonds, collect cans of spinach, recover a 1 life icon, recover a main engine fuel icon, or recover a booster fuel icon. There are also obstacles that must be avoided as he flies upward, such as: blimps, planes, birds, and thermal downdrafts. The turtle's special ability, which can be activated by collecting three spinach cans, is that he is impervious to damage from blimps. The remaining six characters each have their own special abilities. The game is finished upon completion of the achievement in Level 6 (reach a height of 30,000 feet, winning $50,000).
Following each flight, players have an opportunity to shop for items that will help them. There are three kinds of items that can be purchased: Equipment (engine, booster, shell, fuel tank, engine fuel conserver, booster fuel conserver, an advanced flight controller, and a protective flying hat); Commodities (spinach cans, higher exchange rate for diamonds, and a VIP for a discount on store items); and Abilities (reduced air resistance, reduced wind resistance, and reduced damage from hitting obstacles). The first five Levels each have four Achievements, which pay a larger amount of money at each level: $100, $400, $1,200, $3,500, and $6,500. There are four kinds of Achievements specified at each Level: height, speed, duration, and height without hitting any obstacles.
Feature Highlights:

2 stages with 15 levels
8 stories
7 characters
Each character has a different ability
Draw/Import your own head into the game
Control by touch or by tilt
Game Center Leaderboards
Game Center Achievements
"Turtle Fly 2 is a great action, arcade game for kids that they will never tire of playing," commented Jerry Lee of J2sighte. "Kids love going higher and higher, even to Mars. And after every flight they fall back to Earth, buy what they need, and set off again."
Device Requirements:

iPhone, iPad, or iPod touch
Requires iOS 3.0 or later (iOS 5 tested)
14.8 MB
Pricing and Availability:
Turtle Fly 2, formerly $0.99 (USD), is now free and available worldwide exclusively through the App Store in the Games category. Ten different Turtle Fly 2 premiums, ranging in price from $0.99 to $7.99 are available as in-app purchases.
Turtle Fly 2 v5.1
http://www.j2sighte.com/
Download
http://itunes.apple.com/app/turtle-fly-2/id422535901
YouTube Video
http://www.youtube.com/watch?v=8fGmmvwuY-s
Screenshot 1
http://a1.mzstatic.com/us/r1000/065/Purple/e7/b8/51/mzl.umgriptw.320x480-75.jpg
Screenshot 2
http://a2.mzstatic.com/us/r1000/093/Purple/f3/1c/8b/mzl.ivknmaan.320x480-75.jpg
App Icon
http://a2.mzstatic.com/us/r1000/068/Purple/f8/83/ee/mzl.snkleeeq.175x175-75.jpg
###