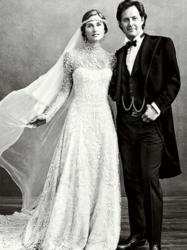 Toronto, Canada (PRWEB) December 14, 2011
From Kate Middleton to Kate Moss, this year's celebrity weddings provided inspiration for brides-to-be across the nation: according to recent research from PreOwnedWeddingDresses.com, 32 percent of buyers on the site say their choice of gown is or was influenced by celebrity wedding fashion.
"Of course celebrity weddings influence brides," says Daga. "Celebrity brides tend to have access to top planners, designers and stylists and unlimited wedding budgets…and their gowns are gorgeous!"
Below, Daga offers up her favorite celebrity wedding dresses and trends of the year:
#1 – Non-strapless gowns are back
Celebs like Kate Moss, Lauren Bush, Amy Smart, Molly Sims and, of course, Kate Middleton, all strayed from strapless this year.
"Kate Middleton's iconic dress reintroduced sleeves and covered shoulders," says Daga. "U.S. designers and other celebrity brides have definitely embraced the trend away from strapless."
In fact, Middleton's gown ranked first among celebrity gowns in the survey, with 30 percent of respondents selecting the long-sleeved stunner as their favorite.
#2 – Color is modern
Brides today are letting their personalities shine through on their wedding day, which can mean choosing colors beyond the traditional white wedding dress. Reese Witherspoon highlighted this trend by selecting a blush pink gown for her March nuptials.
#3 – Texture adds glamour
Reality stars Kim Kardashian and Kim Zolciak dialed up the style with glamorous gowns that featured gorgeous ruffles and voluminous skirts. "Ugly Betty" star America Ferrera and fashion icon Ralph Lauren's daughter Dylan also tied the knot this year in gowns with stunning tiered skirts. Zolciak bought her one-of-a-kind Baracci gown on PreOwnedWeddingDresses.com a month before marrying Atlanta Falcons defensive end Kroy Biermann.
Next year, Daga expects to see elegance and romance continue as trends, along with more body-conscious gowns and fuller silhouettes.
"We can't wait to see what stars like Anne Hathaway, Elizabeth Hurley and Jessica Simpson will wear down the aisle," she says.
###