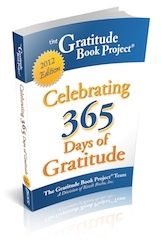 Gratitude is a powerful force for good in the world, something we don't exercise often enough in our lives
San Francisco, CA (PRWEB) December 14, 2011
Kathy Scheiern, Owner and President of San Francisco consulting firm PurposeWorks LLC, is a co-author of The Gratitude Book Project: Celebrating 365 Days of Gratitude, a collaborative book sold on Amazon.com featuring over 300 authors answering the question "What are you grateful for?" in 200 words or less.
The book shares compelling stories of appreciation and evidence that harnessing the power of gratitude can be a life-changing force. The difference between saying thank you—good manners—and living in gratitude—great life skill—are illustrated in moving pieces.
There's a mom who thinks of irritations as blessings and another who gives thanks to muscular dystrophy. There are narratives about how wrinkles, not fitting in and suffering came to be embraced. There's even gratitude for ex-husbands and "ugly gifts."
Celebrating 365 Days of Gratitude is not only full of thanks but also brimming over with testimonials to the people, things, events, and circumstances we so often take for granted.
Kathy Scheiern made four contributions to the book. One to her mother for the gift of life and one to her father for his honesty and his faith. She also contributed an entry about being grateful for everything! And her final entry was about being grateful for the simple lessons of a walk in the woods.
"Gratitude is a powerful force for good in the world, something we don't exercise often enough in our lives." Scheiern said. "When you think about it, all of us can be deeply grateful for the simple fact that we are alive!" Scheiern went on to say, "I wanted to be a part of this project because I am very grateful for my life—the ups AND the downs. I hope this project inspires others to find more reasons to feel gratitude in their own lives."
In keeping with the spirit of the project, net proceeds from national book sales will be split among three charitable organizations: Feeding America, Women for Women International and the American Society for the Prevention of Cruelty to Animals (ASPCA).
For more information about The Gratitude Book Project, email co-author Kathy Scheiern at Kathy(at)YourBigBreakthroughCoach(dot)com or call (415) 813-4199. The publisher can be reached at Media(at)TheGratitudeBookProject(dot)com or 619-923-3082.
About PurposeWorks LLC
PurposeWorks LLC is a leading edge San Francisco human resources consulting firm and executive coaching company. They assist individuals and organizations with their growth and transformation efforts. Specifically, they help people achieve ongoing success by introducing and supporting the development of competencies in skill sets such as values-driven leadership, trust building, and employee engagement. By balancing the importance of what is rational and readily measured with what is grounded in purpose and meaning, in integrity and trust, and in people and relationships, PurposeWorks LLC opens the doorway to next-level thinking and performance improvement for individuals and organizations.
Dr. Kathy J. Scheiern, owner and lead consultant for PurposeWorks LLC is a Certified Public Accountant who has over 25 years of international and domestic experience in providing performance improvement consulting to organizations and individuals. She holds a Ph.D. in Interdisciplinary Studies with a concentration in Organization Transformation, and a Master's of Science in Accountancy with an emphasis in International Business. She is a Certified Cultural Transformation Tools Consultant (providing values and cultural capital assessments and transformation support), and a Certified Systemic Constellation Work Facilitator (a tool for identifying and exploring unseen dynamics at work in organizational systems). As a San Francisco business coach, she has conducted numerous workshops on effective change processes, using a variety of tools and techniques to assist clients in transforming both their personal and organizational lives.
For more information about consulting in San Francisco or any of PurposeWorks' services, call them at (415) 813-4199 or visit them on the web at http://www.PurposeWorksLLC.com.
###