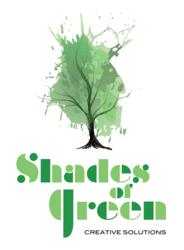 Dare to be Great
Melbourne, Australia (PRWEB) December 15, 2011
The environment for creating a competitive edge in business has never been so fierce. Strong marketing and branding can be the difference between success and failure, yet for many start-up and small businesses, investing in this area can be beyond their means. The entrepreneurial Australian Design Group – Shades of Green Creative Solutions is set to change that by taking a unique approach and opening new markets.
The young company has brought together a team of Australia's most talented entrepreneurs and designers. Realising that marketing and branding is beyond the means of many, although crucial to a businesses success, the team devised their individual business approach. The design group takes a long-term perspective, banking on the success of the businesses with whom they collaborate, insured by the talented team at Shades of Green's disposal. This allows start-up and small businesses to gain a kick-start with no risk, allowing them to leap in front of their competition.
The unique approach to business is what separates Shades of Green Creative Solutions from their competitors, but another aspect is the firms overall vision. The design group believes in the power of creativity and good ideas to produce significant impact and bring positive change, both to business and campaigns but also to the wider community. Shades of Green invests 10% of their time or profit into charitable projects, such as 1egg1world, a unique fundraising initiative raising $1million through 'trading up.' The company also pushes the envelope by investing heavily in research and development, focusing on cutting-edge fields such as Biomimicry, in the pursuit of leadership and innovation.
Shades of Green Creative Solutions offer creative solutions for all marketing and branding needs from corporate identity packages, including logo design, complex website development, creative television and online commercials, photography, artwork, to promotional campaigns and online marketing and much more.
Shades of Green creative director Joshua O'Meara highlights the businesses philosophy by stating that 'your success is our success, by having an invested interest in your success, you can be assured, that we will produce nothing less than excellence, we are not content with mediocrity. Together we can be great.'
Shades of Green Creative Solutions – Where Creativity Lives – Dare to be Great
###