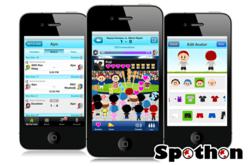 (PRWEB) December 18, 2011
Spothon, inc. has developed a simple and fun application named Spothon that allows users to virtually gather and socialize while enjoying live sports entertainment. Experience the stadium–like atmosphere anytime, anywhere through real–time communication with other sports fans from around the world.
This app became a hot topic after joining "Startup Battle" at TechCrunch Tokyo 2011 JP last month.
Also, they launched a facebook app named Spothon Vote as a sister app of Spothon at the same time.
This is a simple app which allows users to enjoy voting for sports among their facebook friends.
======About Spothon App======

Become a fan of a favorite team!
Select a favorite team from any sports genre around the world and become a fan! Users can also decide based on what team their fellow users are fans of.
By becoming fans, users will receive a notice when the game date is approaching. Fans get exclusive information, and the latest news on their chosen team, and can even interact with other fans.
Customize a look and join the virtual crowd!
Create an avatar by selecting custom uniforms and colors. Users can coordinate with their fan club to find the matching style that supports their favorite team.
"Wow!","What the heck!"-—express out loud and go wild! Just like what sports fans do when they watch a game on the couch or at the bar with their friends. Start tweeting and even engage in discussions. The more the merrier!
Users can even keep their pals updated on the score/game in case they missed anything.
Use various social media outlets!
From Facebook and Twitter, users can synchronize information, such as which team they are following or any tweets or status updates relating to the game topic.
Corresponding sports events to the communities
Soccer
Baseball
Football
Ice hockey
Rugby
Keep adding new features: more updates of sports events and leagues, event-creating feature by users, and so on.
Title : Spothon
Category : Sports
Price : Free
Compatibility : iOS5.0+
======About Spothon, inc.======
Company Name : Spothon, inc.
Our Business : Provides a new way to enjoy user's life filled with sports through our project, production, and management of various information service using mobile phones, smart phones and the Internet.
Organized : August 9th, 2011
###