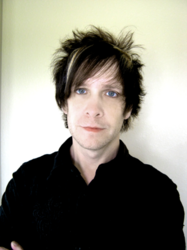 I wanted to create something that would inspire readers to begin telling their own unique stories.
Rogersville, MO (PRWEB) December 16, 2011
Alex Heizer, of Rogersville, Mo., and partner of the website development company TEK Development, LLP, was one of four artists honored in a national competition sponsored by Shonen Jump magazine, the most popular manga anthology in North America. The 2011-2012 SJ Storyboard Contest was launched to give artists an opportunity to receive professional feedback on their work, along with a chance to be published.
Last summer Shonen Jump magazine asked their fans nationwide to submit entries in their storyboard competition. The theme centered around the summer adventures of a thirteen year-old child who dreams of becoming a movie star in New York City. The story needed to be succinct and fit within a four-page spread. The challenge for the artist was to provide the right combination of dialogue and design to engage the reader while editing their own work in the process.
"The biggest challenge was also the most enjoyable thing about making manga," Heizer explains. "When coming up with a story, you need to create characters the readers want to know, settings that they want to be in and a story that entertains. When working in traditional manga this can sometimes serialize for decades. To do it in four pages and have the conclusion make sense was tricky but ultimately the most rewarding part of it."
Since this is the first year of the contest, Heizer feels especially proud to have been a part of it. "I'm thankful for the opportunity to tell a story that doesn't get told very much to kids these days and also one which is really pretty original for Shonen Jump magazine," says Heizer. "To be recognized for the story and be featured in the same pages as the most popular manga in the world inspires me to continue to create stories that I believe in. I believe that storytelling, which is such an important part of any culture to pass ideas and wisdom down to future generations, is becoming a lost art. I wanted to create something that would inspire readers to begin telling their own unique stories."
For a comic book artist, winning this type of competition can bring invaluable exposure to their work. "I have already received a lot of great support and feedback from readers, so I believe that next year will see the release of the beginnings of several manga I've been working on for some time," says Heizer. "One of these is an adaptation of traditional Japanese ghost stories. For the early part of 2012, I'm developing a one-shot story which will be released in an anthology to highlight original English language manga from American creators."
The January 2012 issue of Shonen Jump featuring Alex Heizer's four page award-winning storyboard is available now in many stores where comic books and game magazines are sold.
About Alex Heizer
Alex Heizer has been an artist for almost 30 years. At a young age, he was influenced by Japanese culture, arts, manga and anime, specifically Star Blazers, Speed Racer, Space Giants and badly-dubbed live action martial arts movies. After winning third place at the 1983 Philadelphia Comic Convention, Heizer pursued his creative passions as an artist, tattoo artist, musician and illustrator. He studied figure drawing and anatomy at Fleisher School of Art from 1995-1999. In 2004, he had a piece selected for the "Pure Enjoyment" art exhibit at the World Trade Center in St. Louis, Missouri. In 2007, he taught a comic book course called "Drawing Comics" at the Rolla Technical Institute.
To learn more about Alex Heizer and see examples of his work, you can visit his personal website at http://www.alexheizer.com. If you are interested in drawing comics, he has also included several tutorials and videos.
###